Hiking is an excellent way to stay in shape and also spend time outdoors. Nowadays, with our hectic lifestyle, the time spent outdoors is very minimal. Hours devoted to social media far exceed the time spent outdoors. Therefore, if you are thinking about changing your lifestyle and want to pick up hiking as a new hobby, you need to find a hiking partner.
Hiking alone is fun; it enables you to reconnect with yourself. However, hiking with a partner with whom to share the adventure is priceless!
Also, bear in mind that there is safety in numbers! If you are new to hiking or inexperienced, the chances are that you might overpack with useless stuff while forgetting some hiking essentials.
Moreover, if you are not well acquainted with the area, you could get lost, especially if you don't know how to use a compass or forgot to pack one in your hiking backpack!
Furthermore, during the hike, you could get sick or injure yourself, or be attacked by wild animals. The result is that you are stranded in the wilderness all alone. Thus, to avoid any of these dire situations, go on your trek with a hiking partner.
What to Look for in a Hiking Partner
If you are new to hiking, you should look for an experienced hiker as your hiking buddy. Pick someone that can show you the tricks of the trades when it comes to hiking, look for a mentor figure.
On the other hand, if you are a more experienced hiker, you might want to find someone compatible with you. What I mean here is that you should get someone that matches your hiking abilities, that can keep a similar pace to you because you don't want someone that slows you down or worst has to run to keep up the pace.
Furthermore, there are a few questions worth asking your future hiking companion to find out if you are compatible. Such questions can include but are not limited to, the following:
What are your hiking experience and skill level? Are you a newbie or an experienced hiker?
Do you have any navigation skills, or do you know how to use a compass?
How well do you know the area?
Do you have first aid training?
What are your expectations for this hike?
Ask questions to get to know your future hiking sidekick. Ask him to describe himself to see if you will get along.
Now that you know what you are looking for in a hiking partner, let's find one!
How to Find a Hiking Buddy 
There are many ways you could go about finding a suitable hiking companion. I have listed below a few suggestions, and tips to help you in your search for your next hiking pal.
Talk it up. You should first ask your friends, acquaintances, and co-workers to find out if any of them would be interested in going hiking with you.
Join hiking clubs or groups. There are many websites you can check out to find a hiking buddy. Such sites include the American Hiking Society, the very popular Meetup.com, and the Sierra Club.
Find local hiking organizations and volunteer for them. Volunteering and working on the trail will enable you to meet other hikers and find a hiking partner.
If you are clueless on how to find such regional associations, or how to go about and get in touch with them, then Google them! Use the following keywords: "hiking groups" or "hiking clubs."
Advertise online. Post on social media such as Facebook, Instagram, Reddit, Twitter, and so on. Get the word out to your friends that you are looking for a hiking partner.
Forums. Post a thread where you give the details about the hike, where you want to go, your hiking experience, knowledge, and what you're looking for. Also, don't forget to talk about yourself.
Advertise offline. Post and read the advertising boards of your local Colleges, Universities, nature or science centers, grocery stores, and local coffee shops. You might not be the only one searching for the ideal hiking partner!
Don't forget to visit your local outfitter stores. Read their posting boards, talk with the staff. They might know about upcoming hiking events within your area and introduce you to your next hiking partner.
Pursue your passion. Are you a nature lover? Do you belong to a bird watching Club such as Birding Pal or a photography organization like Outdoor Eyes?
If so, why not inquire within the organization to find a partner. Doing this will improve the odds of finding a compatible trail partner and consequently make for a memorable adventure.
If not, you can sign up to find people that share your passion as well as the hike!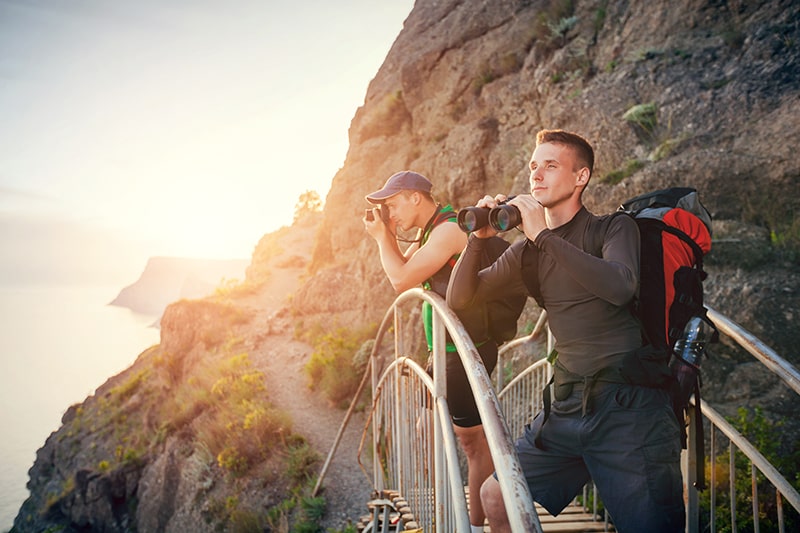 Skill class. If you are a newbie with no first aid training, then you ought to sign-up for skill classes, such as the wilderness first responder or the wilderness first aid. Not only will you get valuable training, but you might also find your hiking buddy for your next outing!
Hiking guide. If you are thinking of going on a challenging hike, especially in unknown territories, then hire an experienced local guide to accompany you. Doing so will enable you to navigate the trail safely and allow you to focus mainly on the challenges of the hike.
Hiking with your significant other. What about your spouse? Make it a romantic outing, sharing the experience and the memories of the adventure with your life partner.
Mingle with other hikers while on the trails. Interact, and talk to fellow hikers. You might just find a suitable hiking mate for future adventures on the trails.
Last Words of Wisdom…
Be cautious when meeting people online. Before going on a hike, get to know the person first.
If you are looking for a hiking buddy for a multi-day hike, you should start by doing test runs. In other words, plan a couple of one-day hikes to see how it goes. Be on the lookout for red-flag behaviors, such as mooching the food or dodging camp chores.
A piece of good advice is to share the burdens on the trail to avoid any bickering while hiking. Be honest and upfront about your skill level and your expectations.
Hiking with a compatible hiking partner makes for a memorable hiking adventure, whereas if you don't choose your hiking companion carefully, your excursion can turn nightmarish in a heartbeat.
Some hikers prefer to hike alone, and it's their choice. However, it is always better to trek as part of a group or with a partner, mainly for safety reasons.
Furthermore, it is nice to have someone to talk to, to share the memories and anecdotes of the hike and the burden of carrying the gears.
No more excuses for not going hiking now, with the list mentioned above, it should be a breeze to find a suitable hiking partner for your next outing.