Even though we live in a technological era, having a compass and knowing how to use it will lower your anxiety level and add peace of mind while on hiking excursions. In this post, we'll check out the best compass for hiking, how to use one, and also how to store it. We'll also cover the essential features to consider when buying a compass.
Some of you might wonder, why do I need a compass? I have my phone! But batteries die, and service in the woods is spotty. Even if you have a map with you, they're not always accurate. So, better be safe than lost in the woods… pack a compass in your backpack!
Why Do You Need a Compass For Hiking?
It may seem like a luxury item, but having a compass with you is crucial. Above all, knowing how to use a compass when going on a hiking trip is paramount for a safe return home.
A compass goes hand in hand with a good topographical map and can help you locate your position and find landmarks. If you manage to take a wrong turn on a trail, a compass will help get you back on track. 
Before we look at compasses, let's take a look at some great features.
Important Features to Have in Your Compass
Compasses come with basic features such as a magnetized needle, rotating bezel, baseplate, and arrows and lines. 
Here are some additional features that may be important when choosing one: 
Sighting Mirror helps you aim more accurately to a precise location. It also can be used as an emergency signaling device. Great for off-trail hiking.
Global Needle is a proprietary needle patented by Suunto. This compass needle allows for the compass to perform flawlessly in all five of the Earth's zones. 
Clinometer measures elevation angle and helps to assess avalanche hazards. Most often used by search-and-rescue professionals and field scientists.
Declination refers to the difference between true north and magnetic north. Depending on where you are in the world, the declination is either east or west of the magnetic north. The declination angle changes over time depending on the Earth's magnetic field. A handy feature for all hikers.
There are fixed declination and adjustable declination. Declination is adjusted differently depending on the compass. See your compass manual for further instructions.
GPS Receiver is a digital compass that includes GPS technology.
Lensatic Compass is a military compass. It comprises a base, a cover, and a reading lens, hence the name lensatic compass, and the lens helps in the orienteering process.  
Liquid-filled refers to compasses containing a liquid in the compass's housing to stabilize the needle movement and reduce oscillation time.
A magnifying lens is sometimes found in the baseplate and is handy for reading map details.
The luminous bezel and pointer enable you to use the compass at night.
These features will help you choose the one that best suits your needs. Now, let's check out some great compasses.
Suunto MC-2G Mirror Compass
This compass is an imported product from a Finnish company, and you can find its products in many outdoor sports shops. 
Features:
100% plastic.
The baseplate has a magnifying lens for better map reading.
It comes with a sighting hole and notch for accurate bearings.
Includes a flip case with a sighting mirror.
Liquid-filled.
Adjustable declination correction.
Adjustment key included on the lanyard.
A luminous bezel means you can use it at night.
Metric UTM scale and inch ruler.
The built-in strap allows for easy transport.
Clinometer.
Limited lifetime warranty.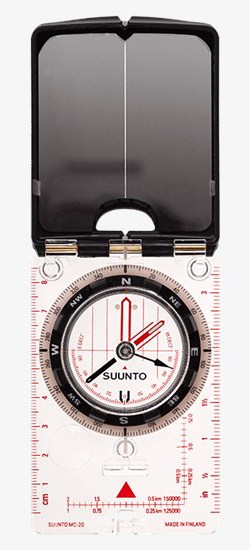 PROS
Functions in all corners of the world with Suunto's patented Global compass needle.
Highly accurate readings.
Comes with a snap-lock lanyard with a wristlock.
The ergonomic design enables it to fit easily in your pocket.
CONS
Markings can wear off over time, making it difficult to read.
Form bubbles in cold weather, which affects the accuracy.
The limited lifetime warranty from Suunto covers defects in materials and workmanship. Consequently, the Suunto company offers to repair, replace your compass with a similar product or refund you. However, the warranty does not cover any misuse or rough handling and normal wear and tear.
The Suunto brand is well known among outdoor enthusiasts, and they have an excellent reputation for making quality products. They also have great customer service.
Suunto A-10 NH Compass
Here is another neat compass from the Suunto company, the Suunto A-10 NH. It's a compact-sized compass, perfect for basic navigation with a map.
Features:
The needle is made from high-grade steel with a jewel bearing.
Fixed declination correction scale.
Liquid-filled.
Detachable snap-lock lanyard.
Balanced for the northern hemisphere.
Ruler scale in inch and cm.
Limited lifetime warranty.
Made in Finland.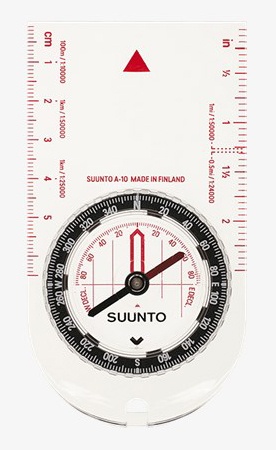 PROS
Easy to use.
Sturdy construction since the baseplate and the cover are made of scratch-resistant plastic.
Inexpensive.
Ideal entry-level compass for beginners.
CONS
Non-adjustable declination correction.
Check to ensure that it is indeed liquid-filled upon arrival if ordering online. Can be susceptible to damage during transit.
Because it's liquid-filled, bubbles can develop over time.
This is a simple compass that's great for beginners and reasonably priced. It can only be used in the northern hemisphere. It's a favorite among hikers.
Brunton TruArc 5 Compass
The Brunton compasses began back in 1894. Their first compass was created by a Denver watch repairman and was called the Pocket Transit Compass. 
Features:
Global needle for worldwide travel.
Tool-free declination adjustment.
Liquid-filled.
Luminous bezel ring (requires exposure to a light source).
Ruler scale in inches and centimeters for an accurate reading.
Map magnifier for more straightforward readings of topographic maps.
Made in the USA.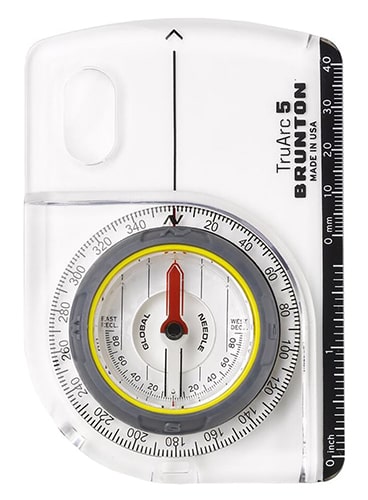 The "Brunton" remains the Gold standard used by geology, forestry, and engineering professionals. 
Watch the video below, which explains how to adjust the declination of the Brunton TruArc 5 Compass:
PROS
Suitable for beginners yet standard issue for Military Special Forces.
Adjustable declination correction.
Oversize plate making it ideal for accurate triangulation.
CONS
Declination adjustment is quite difficult to make. The rotating bezel is too tight and needs considerable force when adjusting the declination.
Dial markings are a decal instead of being etched into the compass and tend to move when adjusting for declination.
The Brunton TruArc5 compass is reasonably priced and well-suited for beginners for recreational use or weekend hikers.
Silva Ranger S Compass
This Swedish company invented the very first liquid-filled compass back in 1933. They invented the first wrist compass in 1960 and are still going strong with new navigation products.
Features:
Dryflex rubber bezel for a better grip and easy handling.
Liquid-filled.
Baseplate with ruler scale in mm and inch.
Adjustable declination correction.
Extra-large direction finder.
It comes with a mirror and a sighting hole for more accurate readings.
Waterproof.
Fluorescent components for use in the dark.
Detachable safety strap.
The lanyard includes scales (1:25,000 and 1:50,000) to measure the distance.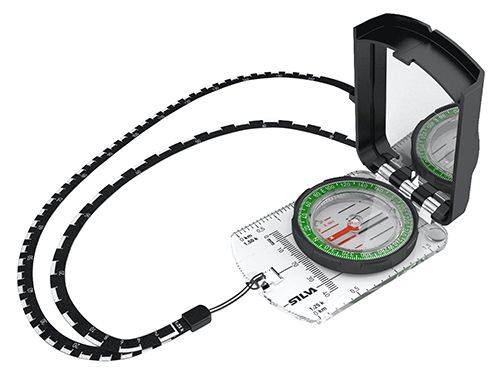 PROS
Sturdy construction.
New graphics and better font make it easier to read bearings.
Quick and accurate readings.
CONS
Clinometer and magnifying lens not included.
The one thing that stands out with the Silva Ranger S compass is that a lanyard is also a measuring tool you can use to lay on a map. 
Great for novice hikers going on an outdoor adventure. 
Cammenga 3H Tritium Compass
This company was founded in 1992 and produced military-grade navigational products. It is the leading manufacturer and supplier to commercial markets, law enforcement, and the military. 
Features:
Trusted by the armed forces.
Shockproof, sand proof, and damage-resistant.
Waterproof.
Powder-coated aluminum frame for optimal performance.
Includes a magnifying lens.
Bi-directional rotating bezel.
Accurate reading in extreme temperatures -50°F (-45°C) to +150°F (+65°C).
It contains 7 Tritium micro-lights and will stay illuminated for over 12 years.
It uses a copper induction damping ring instead of a liquid-filled housing to quickly settle and steady the compass.
1-year warranty.
Made in the USA.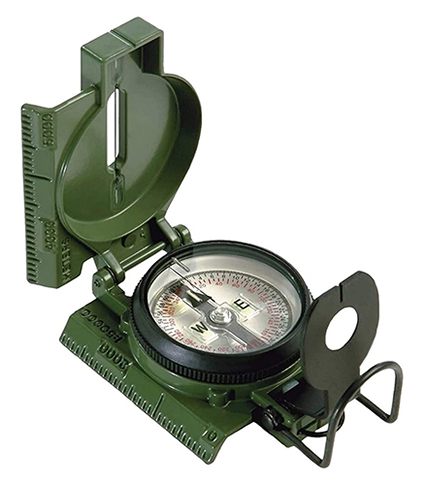 PROS
Sturdy construction.
Resistant to temperature changes.
Self-powered –no need to charge it.
Awesome customer service.
CONS
Heavy and bulky.
No declination adjustments are available.
Con #2
This compass includes a nylon pouch and a nylon lanyard. This is a top-of-the-line compass that is priced higher than other compasses. 
It's suitable for very experienced hikers, adventurers, military, and ex-military personnel. 
Compass Storage Tips
Improper storage can damage and demagnetize a compass. Several factors can affect its accuracy.  
Do not leave liquid-filled compasses out in low temperatures to avoid freezing. Check the freezing point if you're not sure.
Do not store with electronic devices such as cell phones or other metals to avoid miscalibration. In fact, it's a good idea to test the calibration from time to time to make sure your compass is still accurate.
If your compass is liquid-filled, check for bubbles before use. Bubbles can impede the needle movement and lead to inaccurate readings.
Using these storage tips will prolong the life of your compass.
How Much Does a Good Compass Cost?
Depending on where you use your compass and your skill level, the prices range from $10 to $300 and higher. A lot will depend on the features you choose as well. 
Have you made up your mind yet? In any case, take a look at the comparison table below, which summarize the features of the top 5 best compasses for hiking:
Table could not be displayed.
Final Thoughts
Your compass should be able to navigate. That's the sole purpose of a compass. Along with any standard components, you also want to make sure that your compass has any additional features you need and is easy to store and maintain. 
If you have any questions or comments, be sure to leave them below. I'll get back to you as soon as possible.
Last update on 2023-10-01 at 22:15 / Affiliate links / Images from Amazon Product Advertising API