What's better than taking your best friend camping with you? Camping with your dog is so much more fun than camping alone. But it also comes with challenges. In this post, you will find handy tips for camping with a dog to help you make the most of your trip with your canine pal.
Let's face it. If you are a pet owner, you most certainly have experienced the following. Whether you leave home for ten minutes or ten days, both you and your dog miss each other. So wouldn't it be great if you could take your canine best friend with you on your camping adventure? Well, you can.
However, it would be best to be fully prepared to avoid some unpleasantness. Consequently, you and your dog will have a great time exploring the great outdoors. So, let's get ready for your camping trip with your canine buddy, shall we?
Preventive Care
Get your dog ready for his adventure by taking him to the vet for a canine checkup. Ensure his shots are up to date, and also, he's been treated for fleas, ticks, and parasites.
Your vet may recommend a parasite treatment in advance. Discuss your trip with your vet to make sure you are prepared for anything that could happen to your pet, including injuries.
Tip #1:
Bring any medications or specialty items such as allergy medications or dog food for his specific dietary requirements.
Tagged and Microchipped
Most laws require that your dog be tagged and/or microchipped. Dogs have an incredible sense of smell, and the idea of your canine buddy wandering off to explore new smells can be pretty scary.
So make sure your dog is tagged and microchipped and updated all ownership information. Also, make sure the tag has a phone number too. If someone finds your dog far away from camp, they can call to reunite you both.
Tip #2:
Bring a portable phone charger so you charge your cell phone in case your dog gets lost. Also, please take a picture of your dog and print it out to bring on your trip. Be sure to include any special markings or unique spots in the picture as well.  
Tip #3:
Consider getting a dog tracker. There are plenty to choose from and range in price from $25 to $800. Some allow you to receive alerts if your dog wanders too far, and some even have cameras. They are lightweight, waterproof, and can work over long ranges. Some work with an app, and some have a remote control.

Training Your Dog
In order to maintain control of your dog, he should have a firm grasp on a few basic commands such as:
Tip #4:
Dogs that are not well trained can be a nuisance. Keep your dog leashed at all times or attached to a dog leash anchor. Not everyone will love your dog as much as you do.
Make Sure Your Campsite Is Dog Friendly
Most campsites welcome dogs, but it's essential to do your research ahead of time.
If you know where you want to camp, check out the website for any pet restrictions.
Be sure to check if there's a nearby vet as well.
See if there are any special rules for bringing a dog.
Be aware that there may be snakes, coyotes, and other animals that could threaten your dog.
There are a lot of national parks that allow dogs. An Internet search for pet-friendly campsites will help you avoid being disappointed. You can also check the National Park Service website or the KOA website.
Dog Care Essentials
Just like you, your dog has special needs. Here's a list of items to bring on your trip:
Food
Dog bowl, water bottle
Collapsible dog bowls
Bed
Blanket
Leash
Harness
LED Collar
Poop bags/dicky bag (for poop)
Tent for your dog
Booties
Dog leash anchor
Dog gear travel bag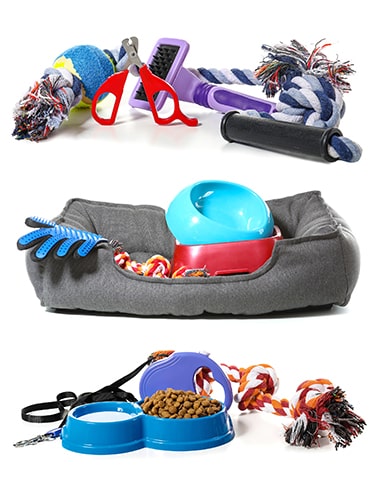 Travel dog shower
Dog sleeping bag attachment
Dog life preserver
Dog coat (for cold temperature camping)
Organic/biodegradable dog shampoo
Dog toys
Tip #5:
Only bring food out when you are about to have a meal. Leaving food out will only tempt the local critters. Once mealtime is over, pack all food in airtight containers or ziplock bags, including your own.
Tip #6:
Be sure to bring poop bags with you out on the trail. Disposing of the poop in a dicky bag will cut the smell until you can dispose of it properly at a later time.
What if Your Dog Gets Hurt?
Dogs can get into all kinds of mischief. Like humans, your dog can get blisters and cuts and suffer from heatstroke and even ingest toxins.
Having a first aid kit will help you be prepared for all contingencies. If you can't bring a first aid kit along or don't have enough room, there are a few essentials you should have on hand, such as:
Basic medical records (in case you have to attend a vet).
A tick key to remove ticks.
Antibiotic ointment.
Grooming wipes.
Gauze.
Rubber gloves.
Scissors.
Cotton balls.
Tweezers.
Hydrogen peroxide (3%) to induce vomiting if necessary.
Saline eye solution.
Artificial tear gel.
Vet wrap is a bandage that sticks to itself but doesn't stick to fur or other surfaces. Great to have for canine injuries.
Tip #7:
In hot weather conditions, keep an eye out for panting, weakness, dry gums, restlessness, heavy breathing, agitation, disorientation, or other abnormalities.
If your dog gets overheated, place him in the shade and give him a bowl of cold water. You can also apply a wrapped icepack to the groin area and take his temperature.
Best Breed of Dog to Take Camping
Some dogs are better suited for camping than others. It doesn't matter if you got your dog from a shelter or if your canine is a special breed.
If you have an aggressive dog or a canine that barks incessantly, you probably don't want to take your dog camping with you.
Dog-friendly campgrounds will have pet policies that will include things like leash requirements, dealing with aggressive behavior, and barking ordinances.
Some dogs get very anxious or are easily excitable, like Terriers. Other dogs like Labradors are very calm.
If you think your dog will be disruptive, it may be best to kennel your dog or find someone to look after your dog while you are away.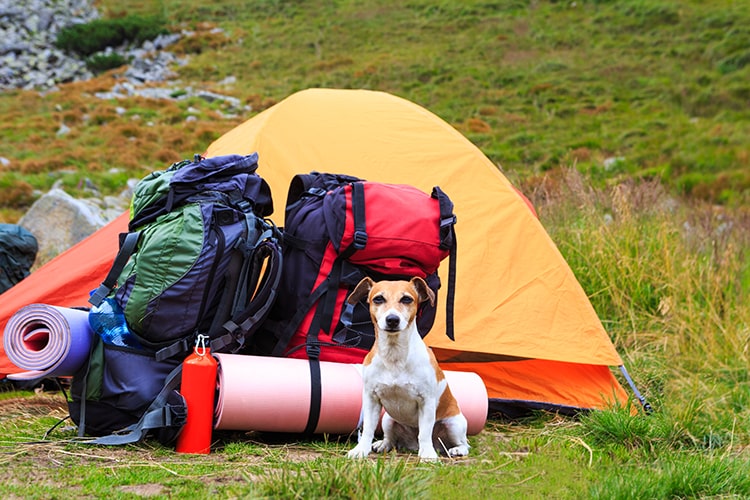 Tip #8:
Dogs are pack animals, so they don't really like being alone. If you are unsure about your dog's temperament or how your canine will respond in the wild, consider taking your dog on a test run for a day trip. By doing so, you will see how well your dog does with other people on the trail.
Sleeping in a Tent With a Dog
Dogs are thrilled sleeping in a tent as long as you have enough room. However, if you are camping in the warm summer months, your dog may be happier sleeping outside the tent, especially if he's a bigger dog.
Try to keep your sleeping arrangements at the camp similar to those at home. So if your dog is happy in a dog bed, make sure you bring it along. If he likes to sleep with you, make sure your tent has plenty of room for him. Consider bringing along a sleeping bag that allows a sleeping bag for dogs to be attached in colder weather.
Tip #9:
Make sure to shut your tent, so your dog doesn't wander out. You can also block the entrance so your canine buddy doesn't try to bolt if he hears a noise.
Final Thoughts
Camping with your dog can be an enriching experience for both of you. Any four-legged friend can make the perfect camping or backpacking companion as long as they are adequately socialized and reasonably trained.
If you have any questions or comments, be sure to leave them below. I'll get back to you as soon as possible.