Hiking is an enthralling venture, especially for outdoorsy and adventurous people. Being on your feet, days in and days out, and strutting boldly towards the unprecedented and exploring the remote wonders of the world's geography is an ultimate liberating experience. Being away from your comfort zone and tackling unexpected living conditions is certainly not an easy task.
It is important to keep in mind some do's and don'ts to make your outdoor adventure smoother and enjoyable.
Starting right from your morning routine, you need to carefully accommodate your requirements and everything you need to include in a backpack. That backpack will be your immediate companion while you are on the trail.
So, to avoid running around in a strange town or an intimidating mountain or a rough terrain rummaging for toothpaste or paper towels, you need to rationally scrutinize and make a note of your essential items because you cannot lug your entire restroom or scullery along with you. So, ponder and plan carefully and then begin cramming your pack.
The following are some paramount recommendations regarding backpacks, especially for hiking or mountaineering trips.
1) Weigh the Essentials
The chief concern of every seasoned and pro hiker is the load of the luggage. Being on your feet for most of the day and prancing through uninviting regions is solely a tectonic task. And upon that, having a week's supply latched on your back the whole time, is the cherry on the cake!
Hiking is an outdoor recreational activity. However, if the weight constraint goes wrong, your trip may end up being disastrous. You will not be able to stride for more than a couple of hours if your backpack weighs you down.
Thus, be tactful and strike a suitable balance between the contents of the pack.
Here are a few tips which can help you:
Carry plastic bottles and containers for water and meals as plastic weighs less. Travel with only necessary amounts of water.
Do not bring spare clothing or any duplicate items.
Replace some large items with a lighter substitute. For example, baking soda and toothpaste.
2) Don't Cheat on the Quality
Under the impression of buying a lighter backpack with no cushions and pads, you may end up with bruises and swelling on your shoulders and hips. Straps that are not padded and are lined only with the material of the backpack are expected to strain your shoulders and back.
Therefore, instead of saving money and compromising on quality to shed some ounces, it may prove harmful to your limbs and posture.
3) Don't Kid with the Lid
Some backpacks come with a top lid. It opens from the top and gives full access directly. As easy as it sounds, it may backfire, ruining your hopes, and defeating the purpose of convenience. The reason is, that on a bumpy terrain you may find it difficult to hunt for your essential items when you need them. It may keep hindering your hike.
Therefore, it is recommended to stick with backpacks that have vertical and deviated zippers.
Top-lids ensure a large compartment, but give you a tough time in organizing the commodities and retrieving them when needed.
4) Keep a Check on the Gear Holders
The gear holders are the pockets and compartments to hold your equipment and tools which are required for the hike.
Always prefer backpacks that have pockets and zippers outside, primarily for keeping the gear. In this way, they are neatly organized and are kept away from your other fragile items.
Some backpacks have a special pocket for holding tools that have a sharper surface. It is an essential feature since the risk of that tool piercing and protruding through your backpack is eliminated. It increases your safety too.
5) More the Merrier
Backpacks with multiple pockets, zippers, and compartments are always recommended. You are going to cart some essential items. Therefore, having multiple pockets helps you keep your essentials organized and in a fixed arrangement.
Furthermore, extra space may permit you to stack up some additional items as well.
Lastly, it is always advised to trek or hike in groups. Hiking alone is fun and peaceful, but having people around you, offers many benefits too, such as:
Safety in numbers.  Lessen the chance of getting lost and being stranded in the middle of nowhere.
Take advantage of your partner's experience and knowledge.
The weight can be divided among the people. One of the members can carry a tent and sleeping bag; another one can bring toiletries, etc.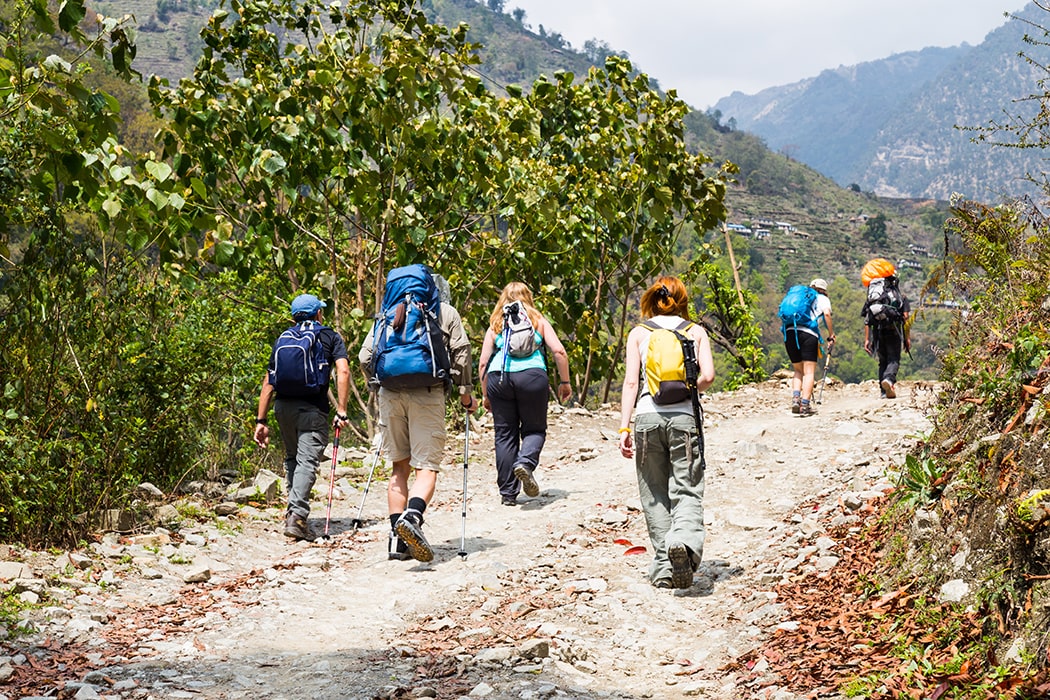 In this manner, the excess load can be shed off, and the hike will become much more comfortable.
It can be said that it will take some practice to master the art of managing your hiking luggage, but with the tips mentioned above, you will be able to make your hike a more pleasant experience.