It's easy to take your water bottle for granted. You probably bought it a long time ago and haven't really given it a second thought because you take it with you everywhere. Your once beautiful, brand-new water bottle you carefully picked out is probably all scratched up by now. Maybe even the strap is broken, yet you're still hanging onto it. This article will take the lid off the best water bottles for hiking. 
Many water bottles have filters to kill bacteria, viruses, and other microorganisms. Still, they won't filter out heavy metals unless it also includes some type of purification system. 
The bottles recommended below have a combination of filters, water purification systems, and self-cleaning systems. Let's take a look at some awesome water bottle options.
Hydro Flask Wide-Mouth Vacuum Water Bottle
The Hydro Flask is a great all-around water bottle that has many uses. Since it's made of stainless steel, it's very durable and has some great features, as you can see listed below.
Features:
Bottle size: 32 oz (946ml).
It weighs in at 15.2 ounces (430 g), so it's very lightweight.
Double-wall vacuum insulation keeps liquids piping hot for 6 hours or icy cold for 24 hours.
18/8 pro-grade stainless steel will protect against flavor transfer.
The color last powder coating provides a slip-free grip.
BPA-Free.
It comes in an assortment of colors.
Limited lifetime warranty against manufacturer defects.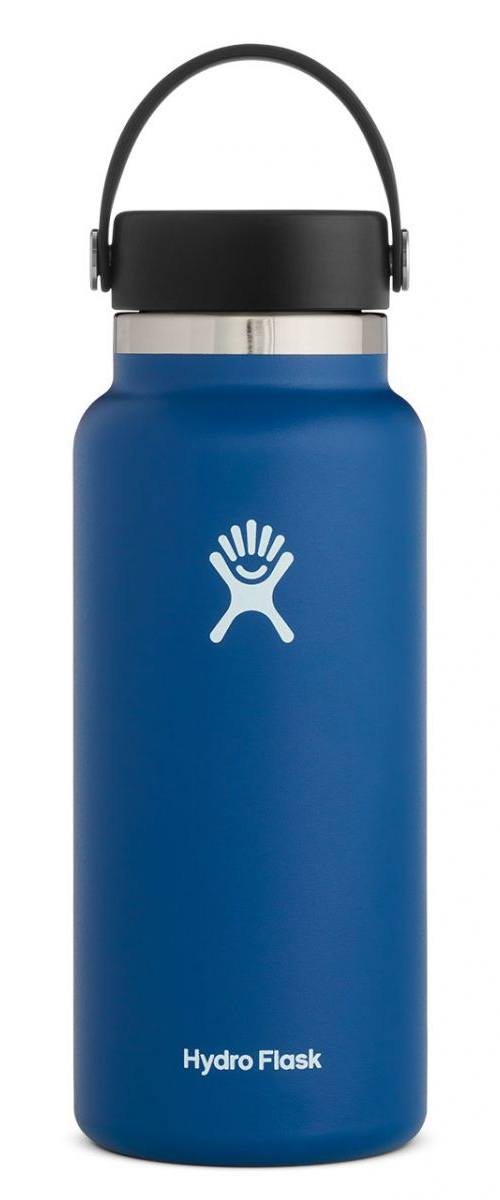 PROS
Dishwasher safe for easy cleaning.
Excellent insulation, keeping your beverages either cold or hot for long periods.
Sleek design.
Durable.
CONS
The lid can be difficult to close correctly, so leaks and spills have been reported.
Expensive. 
The Hydro Flask Wide-Mouth water bottle insulation has made this a popular bottle for a wide variety of outdoor activities.
Liquids stay hot or cold and retain their flavor. You also have the option of two different lids. The exterior matte finish makes gripping the bottle easier. It only has two parts making cleaning by hand a breeze.
Platypus DuoLock SoftBottle Water Bottle
Next up is the Platypus SoftBottle, a soft, flexible bottle more akin to a bag than a bottle but still very functional.
Features:
Dual-locking cap to further protect against leaks.
BPA-free, BPS-free, and phthalate-free.
A Clip-gate handle for easy carry or enabling you to clip the bottle to the outside of your backpack.
It comes in assorted designs and colors.
Comes in 3 different sizes: 25 fl oz (0.75L), 34 fl oz (1.0L), 70 fl oz (2.0L).
It weighs between 1.5 and 1.8 ounces (40-50 g), depending on size.
Made of soft nylon/polyethylene.
Suitable for freezing.
Limited warranty against manufacturer defects.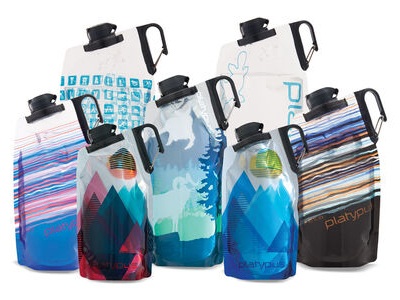 PROS
Lightweight.
Collapsible.
Ergonomic design allows for a secure grip.
The wide mouth opening allows for an easy filling as well as pouring.
Easy to clean; dishwasher safe (top rack only).
CONS
The bottle, once filled up, tends to tip easily. 
The Platypus bottle is the ideal choice for day hikes, traveling, camping, and backpacking adventures.
Because the Platypus SoftBottle water bottle is soft and flexible, it's easy to pack or stow away when empty. You can put hot liquids in it, but it's not recommended for scalding hot liquids.
Lifestraw Go Filter Bottle
The Lifestraw Go Filter Bottle is very versatile. It can be used for travel, camping, and other outdoor activities as well as everyday use.
Features:
Purchase includes a water bottle, cap with silicone mouthpiece, water filter, and a carabiner.
Protects against bacteria such as E. coli, Salmonella, Cholera, and other parasites.
Filters out chemicals such as chlorine, pesticides, and herbicides, reducing odors and improving taste.
Made of hard plastic and is BPA-free.
It comes in 2 sizes: 22 fl. oz (0.65L) and 34 fl. oz (1L) and weighs respectively 7.84 oz (221 g) and 8.6 oz (245 g).
Replacement parts are available for additional purchase.
3-year limited warranty.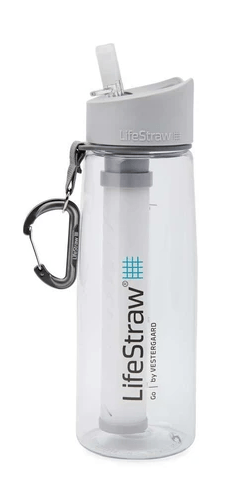 PROS
Easy to use.
Lightweight.
Sturdy build.
Replaceable filters.
The carabiner makes the bottle easy to carry and clips onto your backpack for easy access.
CONS
It can only be used with water.
Some customers complained of leakage issues when the bottle is not in the upright position.
What makes the LifeStraw Go bottle more unique than others is the double filtration system, which together works to filter out over 99.999% of bacteria and parasites present in the water.
The water filter lasts up to 1,000 gallons (4,000L). The carbon filter lasts up to 26 gallons (100L) or up to 3 months, depending on use. The warranty does not include filters, which are covered under a separate warranty.
Sagan Life Journey Water Filter Bottle
The Sagan Life company is serious when it comes to water filtration. Their water bottles are essentially a portable water purification system. Qualified water laboratories have independently tested the filtration system, so it's definitely a product you can trust.
Great for camping, hiking, backpacking, and everyday use.
Features:
It comes in 2 colors: orchid and blue.
Bottle size: 24 fl. oz (0.7L).
Filters out bacteria (such as E. coli), parasites (giardia and cryptosporidium), and viruses.
Reduces heavy metals (lead) and chemicals (such as fluoride, and arsenic) in the water.
Can purify up to 250 gallons (946 liters) of contaminated water.
Meets EPA micro water purifier standards.
Made of BPA-free plastic.
Flip-up silicone-covered mouthpiece and lid.
Carry handle.
100% money-back guarantee.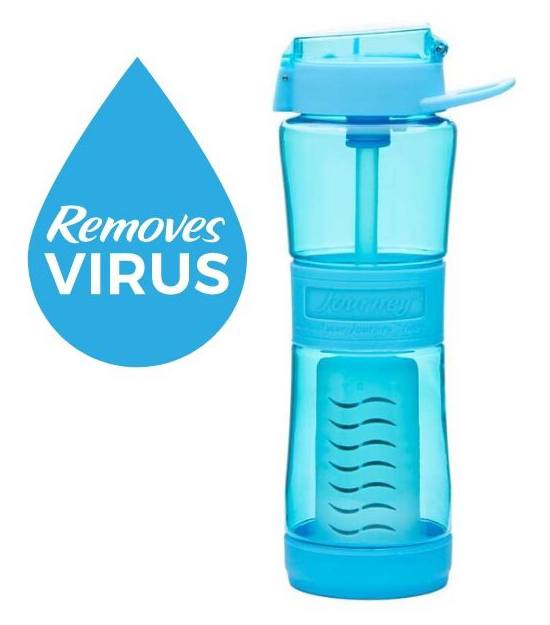 PROS
Easy to use.
Effective filtering system.
Compact design.
Replacement filter available.
CONS
The filter takes up a lot of space in the bottle.
Expensive.
The filter system is in the bottom half of the bottle. It can filter water from a stream, lake, or river or filter tap water. Excellent for use in places where the water supply is known to be contaminated, like Mexico and Africa. 
The company has made the lab test results available for download as a PDF on their website.
LARQ Water Bottle
The LARQ water bottle is a top-of-the-line, award-winning water bottle. What makes this bottle more unique than others is that it is self-cleaning using UV-C LED technology. So no matter where your water comes from, simply press the button, and the UV technology zaps waterborne microbes out of the water.
Features:
Two sizes are available: 17 oz (500 ml) and 25 ounces (740 ml).
Vacuum sealed.
Double insulated, keeping cold liquids cold for up to 24 hours, and hot beverages stay hot for 12 hours.
18/8 electropolished stainless steel with proprietary powder coating for a slip-free grip.
BPA and phthalates free.
Available in five colors: black, blue, pink, white, and seaside mint.
2 purification modes: Normal Mode and Adventure Mode.
Includes a USB to MicroUSB connector and Quick Start Guide.
The MicroUSB port is waterproof.
1-year limited warranty.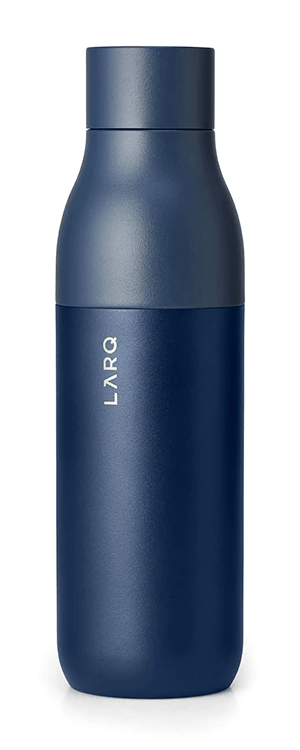 PROS
Little maintenance as the bottle is self-cleaning.
Sleek design.
UV-C LED technology removes over 99.99% of the bio-contaminants in the water.
CONS
Heavy.
Very expensive.
Aside from manually purifying your water, the bottle turns on every 2 hours for 10 seconds to purify not only the water inside but cleans the inside of the bottle at the same time. You won't even hear it! Since it's self-cleaning, you won't have to wash it out as often.
Using UV-C light eliminates contaminants by destroying their DNA. The UV-C LED technology can remove up to 99% of bacteria, mold, and viruses using Adventure Mode.
The bottle does not contain filters, so no dirt or sediment is removed. It also won't filter out chlorine or fluoride, or other heavy metals that may be found in water sources.
It needs to be charged, but one charge can last up to a month, depending on usage.
The LARQ water bottle will work well with cold water but not with really hot water. The recommendation is to use cold to warm water only.
Final Thoughts
A decent water bottle is essential no matter what type of outdoor activities you prefer. The key to finding the perfect water bottle lies in how you'll use it. 
But if you plan to spend a lot of money on a water bottle, it pays to buy one that can be used for many situations. These water bottles serve many purposes, so you are bound to find one to suit your needs.
So which one did you choose? If you have any questions, be sure to leave a comment below. I'll get back to you as soon as possible.