Every hiker will tell you that your hiking boots must be comfortable, durable, and stable for an enjoyable hiking experience. Hiking boots that pinch, get your feet wet, or even rip will make for a miserable hike. In this Salomon X Ultra 3 Mid GTX Hiking Boots review, we'll discuss how well these boots perform out on the trails, how waterproof they are, and how to care for them.
Ever hike in low-quality hiking shoes or boots? If so, you know that your feet get sore pretty quickly. Hiking boots specifically designed to protect your feet will help prevent injury and keep your feet dry, warm, and free from blisters.
The Salomon X Ultra 3 Mid GTX hiking boots are a favorite among seasoned hikers because of their performance and endurance. Let's start with the features:
Features:
Waterproof protection through a polyurethane-coated upper and Gore-TexⓇ breathable liner to keep moisture out.
Made of suede leather and nylon material for breathability.
It weighs 2.28 lbs (men's size 11), making them very light for hiking.
The ContagripⓇ rubber outsole with a deep lug pattern provides high traction on all terrains.
The Sensifit™ technology provides a secure fit and snugly cradles your feet in place.
Advanced Upper Chassis for better heel stabilization and protection.
Mudguards and rubber toe caps protect your feet from injury and wetness.
Available in a variety of colors for both men and women.
The OrthoLiteⓇ footbed cushions your feet better and provides enhanced heel support.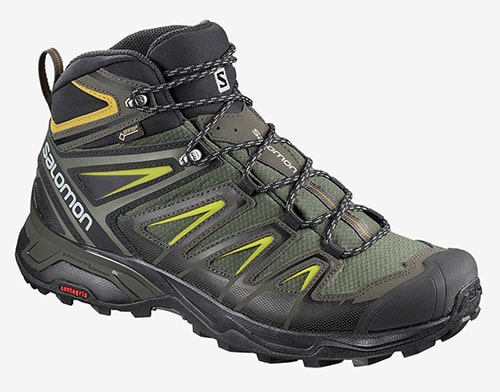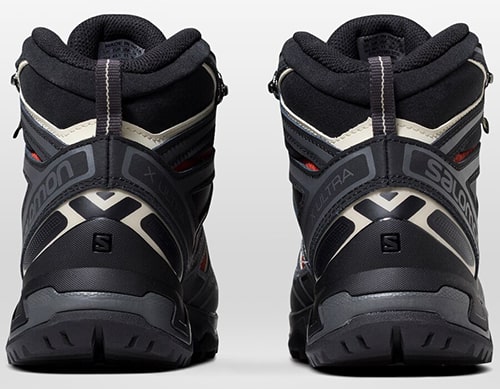 Watch the video below to learn more about some of the awesome features of the Salomon X Ultra 3 GTX hiking boots:
The Salomon X Ultra 3 Mid GTX hiking boots are available for both men and women. Sizes run from 7-12 for men and 5-12 for women, with half increment sizes.
One thing to note here is that each manufacturer cuts their hiking boots a little differently. So it's always best to adequately measure your feet and use the size chart provided when ordering online. 
Here is a video below to help you adequately measure your feet: 
PROS
Lightweight.
Sturdy construction, durable, perfect choice for hiking technically challenging trails.
Made of breathable materials for a comfortable fit and dry, happy feet.
The Advanced Chassis feature adds additional comfort and heel support to your feet.
Double waterproof protection so your feet won't get wet.
CONS
Not true to size: The Salomon X Ultra 3 GTX boots run small. Therefore, it is strongly recommended to order a half size larger than your usual size.
Lacing issues: Lacking one set of grommets in the ankle area doesn't allow lacing the boots up tightly.
Performance
The Salomon X Ultra 3 Mid GTX provides a running shoe's comfort and the hiking boot's support. They offer excellent traction and stability for climbing rocky trails even in wet conditions. The toe caps protect your toes from injury. 
The Ultra 3 GTX hiking boots from Salomon weigh around two pounds, making them very lightweight yet hardworking. 
The ankle collar and midsole protect your feet against sharp rocks and keep you stable, so you don't roll your ankles when walking on uneven terrain. Even hikers carrying backpacks have reported that these hiking boots perform very well out on the trail.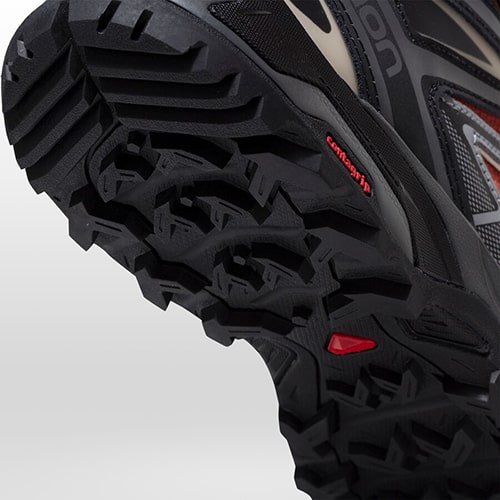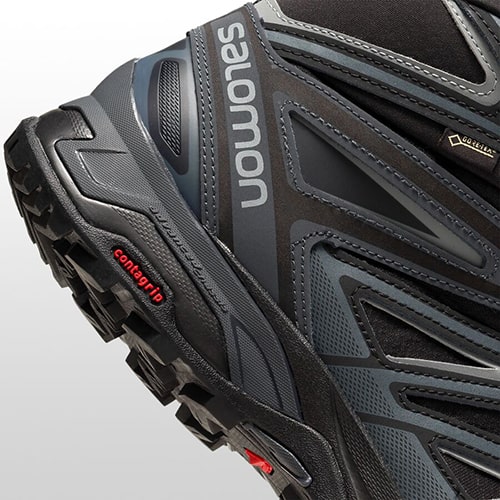 Waterproof
The Salomon X Ultra 3 hiking boots have a polyurethane-coated upper with a Gore-Tex lining. They perform well in light to moderate rain and even in small stream crossings. Even if the outside of the boots gets quite wet, your feet will stay dry. They also dry out very fast.
The boots don't tend to overheat in hot weather. The insulation keeps your feet warm in freezing temperatures.
Warranty
Salomon offers a 2-year warranty. It doesn't cover normal wear and tear, inadequate maintenance or storage, defects, or damage caused by improper use.
Return Policy
You can return the boots within 45 days of the original purchase for a full refund. The boots must still be in good condition, have not been worn or washed, and are in their original packaging.
There's no exchange policy. You'll need to return the hiking boots and buy a new pair.
How to Care for Your Salomon X Ultra 3 Hiking Boots
Your boots work hard for you, so show them a little love by properly maintaining them. These tips will help extend their life. 
Use a soft wet brush to remove any dirt or mud from the boots.
Do not wash the Salomon X Ultra 3 GTX hiking boots in a washing machine. If they get wet, dry them at room temperature but don't put them near a heat source–even the sun.
Keep soles clean and free of dirt by using a brush to remove excess dirt.
If your hiking boots are leather, Salomon recommends that you treat your boots with a wax treatment such as NikwaxⓇ. The leather may change color and turn darker, but this will not affect the leather's performance.
The suede leather/nylon upper is pretty easy to maintain. Take care of your boots, and your boots will take care of you. 
Who Are the Salomon X Ultra 3 Mid GTX Boots For?
The Salomon X Ultra 3 GTX can easily accommodate technical hikes, challenging descents, and wet conditions. 
The Salomon X Ultra 3 Mid GTX are great all-around hiking boots for men and women and ideal for backpacking, camping, or day hike adventures. 
Final Thoughts
There's a lot to love about the Salomon X Ultra 3 Mid GTX hiking boots. These boots are super comfortable, and you can't beat the traction. Lightweight yet very durable, so you shouldn't have to replace your Salomon X Ultra 3 boots anytime soon. And you won't have to sacrifice support just because they're lightweight. 
These hiking boots from Salomon are trendy, high-quality boots that can be put through the paces on light trails or off-trail, making them an excellent choice for hikers at all levels. The Salomon X Ultra 3 GTX boots perform well in warm and cold climate conditions. 
If you should have any questions or comments, please leave them below. I'll get back to you as soon as possible.