If you're in the market for a new pair of hiking boots, you'll be spoiled for choice. As long as you have a good idea of what you want, finding the right boots probably won't be a problem. But if you're not sure, this post will help you learn how to choose the best hiking boots worthy of your feet.
We'll also discuss the different types of hiking boots available today on the market, the best materials, and the most important thing you need in a hiking boot.
Let's start with different types of boots.
What Are The Different Types of Hiking Boots?
Before we talk about finding the best hiking boots, you need to know what kind of hiking boots you need. That, of course, depends on what kind of hiker you are. 
Trail: Low-cut boots are the way to go for staying on a well-kept trail. They are usually a combination of leather or split-leather and may or may not be waterproof. They are not stable enough to use for off-trail or more challenging hikes.
Off-trail: for off-trail hikers, buying leather and the ankle boot will provide better support and stability. Off-trail boots often have a lip on the sole to allow for crampons. These boots are waterproof and very durable.
Rough-trail: these are usually ankle-high boots and can be a combination of leather or nylon leather. Some are waterproof, while others are well ventilated. 
Mountaineering: these boots have pretty rigid soles and can be used for climbing ice if used with crampons. They can be either leather or synthetic and tend to have less insulation. Because of the rigid soles, they're heavier and not as comfortable as other insulated boots with more flexible soles.
Day hiking: these boots will give you strong ankle support and will help prevent your ankle from rolling while standing on them. They are pretty lightweight and often weigh less than 4 pounds. They are usually waterproof.
Backpacking: these are for serious hikers and backpackers. These boots are used for hiking places like the Sierra Crest Trails and the Appalachian mountains. They are well-insulated leather boots that are incredibly durable with excellent ankle support.
Hiking Shoes: these shoes are basically heavy-duty walking shoes. They are not suitable for hiking even though they are pretty comfortable. Hiking shoes are more durable than a sneaker but are not built to walk on rocky terrain. 
Insulated Hiking Boots: These boots are best for winter hiking and should also be waterproof. We'll take a look at waterproof material next.
Best Material For Hiking Boots
There are a few different materials used to make hiking boots. Leather boots last longer and can withstand heavy-duty hiking. If your leather boots aren't waterproof, you can waterproof them using waterproofing gels.
Full-grain and split-grain leather: These are the two types of leather boots. Leather boots are entirely leather, whereas split-grain leather boots are a combination of leather with nylon or nylon mesh that gives the boot more breathability and is more lightweight.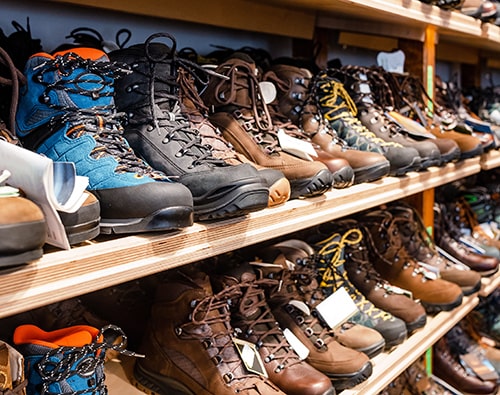 Nylon hiking boots: nylon boots are the right boot for entry-level hikers. They are not recommended for serious hiking enthusiasts.
Leather is, by far, the best material for hiking boots. It makes a very durable boot that will last a lot longer than split-grain leather or nylon boots. You may prefer a split-grain leather hiking boot for more breathability. But it all comes down to the type of hiking you do. 
What About Insulation?
Having insulated hiking boots will keep your feet nice and toasty out on the trails for winter hikers.
Below are materials used to insulate boots:
Thinsulate: a microfiber that traps cold air from getting and prevents heat from escaping. It's one of the most widely used insulation in boots.
Shearling: this is a fine fleece lining that keeps your feet warm even in extreme temperatures.
Gore-Tex®: Gore-Tex is a waterproof fabric. Gore-Tex is made up of three layers of tiny holes that stop rain from getting in while still allowing your feet to breathe.
There's a difference between Gore-Tex insulation and a Gore-Tex membrane. The Gore-Tex insulation is on the inside of the boot and is indeed insulation. But a Gore-Tex membrane is put over the boot to make it waterproof but not insulated."
How To Choose The Right Fit
Comfort is the most important thing when buying new hiking boots. Get this right, and you'll have happy feet for a long time. Get it wrong, and you'll be miserable from the outset. 
Depending on the material you choose, your boots may stretch out a bit over time. 
Here are five crucial tips for finding the right fit:
1) Know Your Size
This will get you a long way in the decision process. So, the best way to know your size is to measure your feet adequately. Here are outlined two methods to do so:
Brannock device: This option might not be available to you when at home. To measure your feet with a Brannock device, you will need assistance from a specialist at the store or purchase one.
Ruler or a measuring tape: Measure the length and width of both feet! Yes, because we tend to have one foot bigger than the other!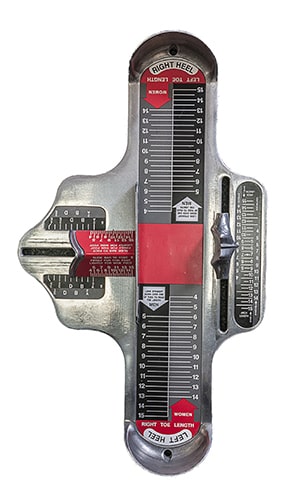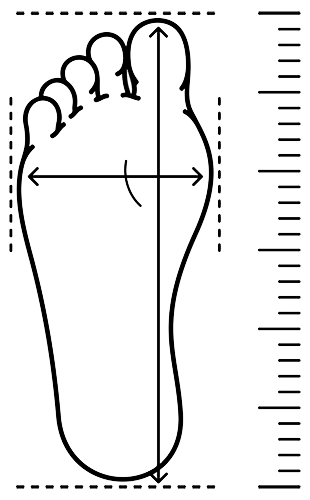 Here is a video explaining how to measure your feet correctly using both methods outlined above:
2) Try on Hiking Boots at the End of the Day
Your feet will be slightly swollen and will more closely simulate your feet' condition out on the trail. This way, you won't buy boots that are too small.
3) Wear Hiking Socks
They are heavier than your basic socks. Hiking socks absorb sweat and are more comfortable. Not to mention, you should be wearing hiking socks on the trail anyway. 
4) Think About How Much Weight You Typically Carry
Any extra weight adds additional pressure on your feet. If you are carrying very little weight, you can get away with a less rugged boot.
5) Walk Around in Your Hiking Boots
Whether you buy your boots at a store or order them online, take a walk around in them. Walk on inclines inside or outside. Make a mental note of how they feel if they pinch anywhere. There should be a thumb's width between your big toe and the end of the insole.
Your hiking boots should fit snugly but shouldn't pinch anywhere. Even the slightest pinch could mean painful blisters out on the trail. 
How Long Do Hiking Boots Last?
The amount you pay for your hiking boots will have a lot to do with how long they last. Cheaper boots won't last as long as more expensive, better-quality boots. A good pair of hiking boots typically last between 500-1,000 miles. 
The type of terrain you're hiking is also a factor in how long your boots will last. Hiking Boots last longer on softer, rock-free trails. If you are hiking off-trail and the terrain is rocky and steep, your hiking boots will take more of a beating. Taking good care of your hiking boots will help to extend their life.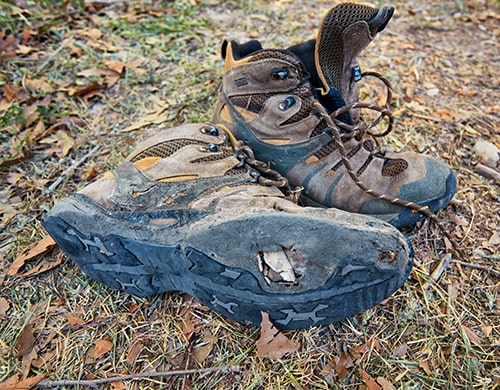 How To Break in Your Hiking Boots?
Before you hit the trails, your new hiking boots need to adapt to your feet, which means breaking them in. This is especially important if the hiking boots are leather because it takes time for the leather to soften up. 
But before you start breaking in your boots, waterproof them first with a waterproofing treatment if they are not already waterproof. There are many waterproofing gels you can choose from. Follow the instructions on the product. Even if your hiking boots have a Gore-Tex® membrane inside, it's still recommended that you waterproof the outside of your boots. 
Please start the process of breaking in your hiking boots by wearing them inside the house. Wear hiking socks, and make sure you lace them as you would outdoors.
Next, take a walk outside and walk around your local area, taking note of how your boots feel as you go. Walk up inclines, small hills, or outdoor stairs if available.
Finally, take a day trip. If you plan to carry weight, pack your backpack as well, so your new boots get used to the additional weight. 
Final Thoughts
No question that buying the right hiking boots is critical for any hiker, and there's a lot to consider. Purchase good quality; comfortable hiking boots that will help prevent injury on the trails and leave you with happy feet. So don't skimp on quality if you don't have to. 
As long as you take care of your boots, you won't have to worry about replacing them anytime soon.
If you are thinking about getting a new pair of hiking boots but don't know where to start, read my review about the Salomon X Ultra 3 Hiking Boots, a worthy fit for your feet.
Be sure to leave any questions or comments below. I'll get back to you as soon as possible.