A backpack rain cover can be the difference between a successful and an unpleasant journey. However, it can be a daunting task trying to decide which one is right for you. With so many options available, picking a backpack rain cover with all the features necessary to make every adventure successful requires careful consideration. 
In this post, I'll guide you through everything from materials to sizing and price, and by the end, you'll know precisely what features matter most when selecting a rain cover for yourself. Furthermore, I'll discuss how to properly use your rain cover and maintain it over time to last as long as possible.
So if you're ready, let's start learning about the basics… 
What Is a Backpack Rain Cover? 
Let's start with the obvious question: Do I really need a backpack rain cover? After all, most backpacks are made of materials that keep out moisture, so why bother with a rain cover?
A backpack rain cover is an essential piece of gear for any outdoors enthusiast. It's designed to fit over your bag and protect its contents from the elements, including wind and rain. You can use a rain cover to keep your belongings dry while trekking in inclement weather conditions.
The primary function of a backpack rain cover is waterproofing. However, they also protect against dust, dirt, and mud. Even though your bag has some waterproofing capabilities, a rain cover can protect against more intense storms and heavier precipitation. It also helps protect the zippers and buckles on your pack from getting wet or damaged. 
The material used to construct these backpack covers varies depending on the manufacturer. Some manufacturers use lightweight nylon or polyester fabric with taped seams for maximum durability and water resistance. In contrast, other manufacturers opt for more breathable materials such as Gore-Tex® or eVent® fabrics, often coated with DWR (Durable Water Repellent) treatments for extra protection against moisture.
No matter what material is used, choosing a rain cover that fits snugly over your pack is essential so that no water seeps through. This ensures optimal protection from the elements and keeps your items safe throughout your journey. 
Moreover, using a backpack cover can help prolong the life of your bag so it remains in good condition for many years to come.
With this in mind, let's take a closer look at the different types of backpack rain covers available to help you make an informed decision when choosing one for yourself.
Types of Backpack Rain Covers 
There are many types of backpack rain cover available. Each type is designed for specific uses and offers different levels of protection. Therefore, understanding each type's specifications is essential before selecting the best one that fits your needs.
The most common types of backpack rain covers are:
Rainproof Backpack Cover: These covers have basic waterproof capabilities and protect against light showers or splashes on the trail. They do not provide any additional insulation or protection against heavy downpours.
Waterproof Backpack Raincover: These covers are made from more durable materials and usually come with taped seams, making them fully waterproof and wind-resistant. They also help keep items inside dry during wet conditions.
Heavy Duty Backpack Cover: Designed for extreme weather conditions, these covers feature multiple layers of material for added durability and are often insulated for increased warmth in cold climates. Many also include vents for air circulation and reflective tape to increase visibility in low-light conditions.
Protective Backpack Raincover: Made from ripstop nylon or other synthetic fabrics, these covers protect against abrasion, moisture, UV rays, and dust particles outdoors. They're lightweight yet tough enough to withstand harsh elements like snowstorms or sandstorms without tearing or ripping easily.
It's important to consider what kind of use you will get from your backpack rain cover when deciding which type to buy. If you plan on using it mainly as an everyday item, then a simple rainproof cover may suffice, but if you need something more robust, opting for a heavier-duty model would be wise. 
How Do I Know if a Backpack Rain Cover Will Fit my Backpack?
When purchasing a backpack rain cover, one of the most important considerations is whether or not it will fit your bag.
To ensure that you're getting the right size for your needs, here are some tips for finding and selecting the perfect backpack cover:
Measure your Backpack Size:
Use a tape measure: Measure from top to bottom and side to side to compare these measurements with those listed on potential covers.
Note any irregularities in shape: If there's anything unusual about the shape of your pack, note this when taking measurements as well—this will help give you an even more accurate idea of what size cover you'll need.
Compare Cover Sizes With Your Pack: After taking all necessary measurements, consult sizing charts available online (or provided by individual manufacturers) and look for products with dimensions that match yours. This should give you an idea of which sizes work best for your bag.
I highly recommend considering both the size and shape of your backpack before settling on a rain cover—it's essential to get something that fits appropriately to keep all your belongings safe and dry!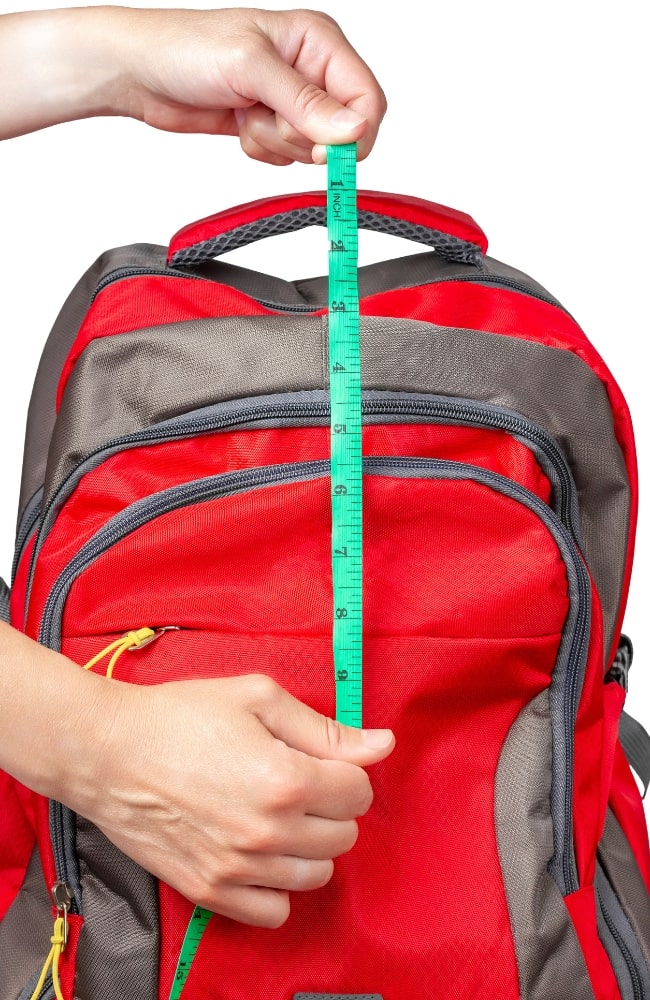 By following these steps, you'll have greater confidence in choosing the perfect cover for your adventures outdoors.
Now let's move on to how to choose your rain cover wisely…
How to Choose the Perfect Backpack Rain Cover?
Choosing the right backpack cover can be a daunting task. Knowing which one suits your needs is hard with so many options available. However, plenty of great rain covers are on the market, whether you're looking for something lightweight and compact or something heavy-duty that will stand up against harsh weather conditions.
Before we dig in, it's essential to understand the specs when shopping for a rain cover. Not all backpack rain covers are created equal. Knowing what to look for can help narrow your choices and ensure you select the best cover for your needs. 
Understanding the specifications will help ensure you get the right fit and level of performance needed for whatever activity you have planned!
There are four critical specs to consider when purchasing a backpack rain cover, and they are listed below. So, let's dig in, shall we?
Size 
Size is an important consideration when choosing the perfect backpack rain cover. 
The size of your backpack determines what kind of rain cover you need to buy. Ensure the rain cover is large enough to fit over your bag comfortably without being too loose or tight.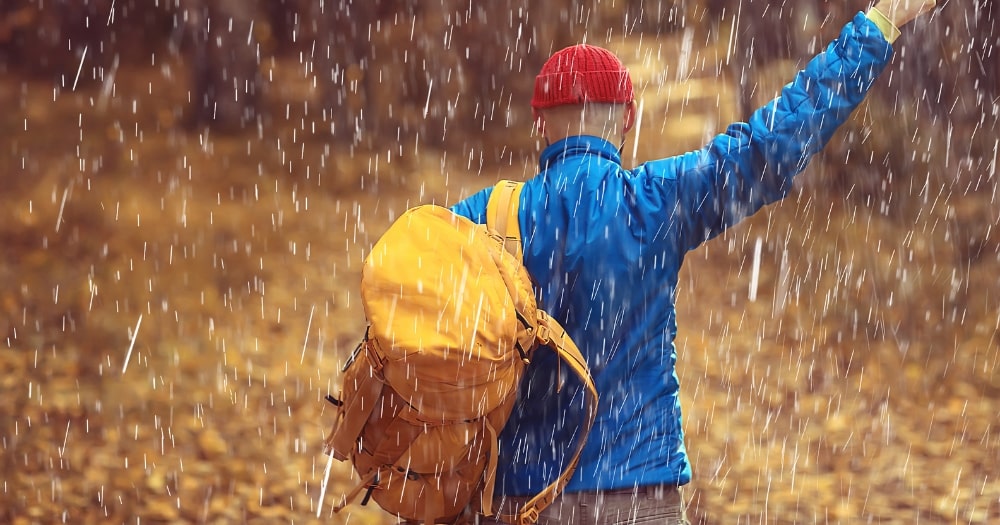 You don't want to purchase something with inadequate space because this could result in water seeping through the seams or fabric not covering all sides properly. 
Comfort and Fit 
Look for adjustable straps and an ergonomic design that allows you to wear the backpack comfortably. It's also important to check if the rain cover has padded shoulders and waist straps, as these features can help make your journey more comfortable. Additionally, check that the fabric is breathable so you don't feel too hot or sweaty when wearing it.
In short, please pay attention to how comfortable and adjustable the rain cover is before purchasing it since comfort and fit are essential. 
Now, are you ready for the next spec, reflective material?
Reflective Material for Safety 
Choosing reflective materials for your backpack's rain cover is necessary to ensure higher visibility and safety. Therefore, reflective material with bright colors like white, yellow, pink, orange, or red is all indicated. These colors will ensure your pack stands out against any background or during low-light conditions, such as foggy days.
The reflective strips are typically located on the top and sides of the rain cover and will help keep the wearer visible in inclement weather. Additionally, this material is often water-resistant, so precipitation will not damage it.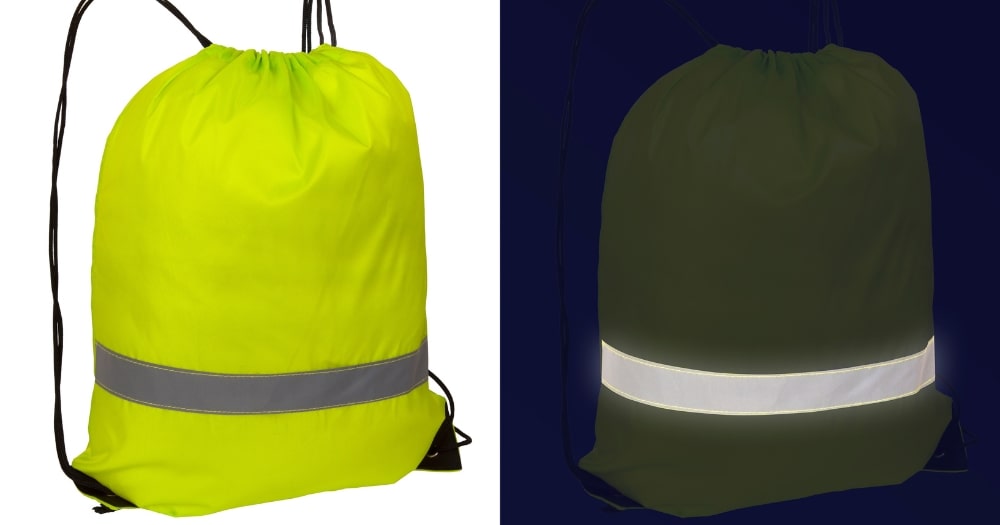 Reflective material is worth the extra money. Investing in a backpack cover with reflective material can definitely be beneficial. Not only does it provide added safety, but it also provides some peace of mind knowing that you have taken all necessary precautions against any potential mishaps outdoors.
Bright Colors for Visibility
Do bright colors really make your backpack more visible? It's a question many of us have asked ourselves, especially when trying to choose the right rain cover. 
The truth is that in certain situations, bright colors can help make you and your gear more noticeable. This could be helpful if you are out on a hike or biking through heavily trafficked areas. Brightly colored backpack covers will stand out against natural surroundings like trees or foliage, making it easier for others to see you from farther away.
It's important to consider both the benefits and drawbacks when choosing between different backpack rain cover colors before buying one that suits your needs best. Ultimately, selecting the right color comes down to personal preference. 
Now that you understand the specifications to consider, let's move on to how much you are willing to pay…
Comparing Prices
Comparing prices of backpack rain covers is an essential step in finding the perfect cover. Unfortunately, many types of rain covers are available at varying price points. Therefore, it pays to shop around and find the best deal possible when purchasing one.
The first step is to determine your budget, which will help you narrow down your choices and eliminate any that may be too expensive or not within your budget constraints. Then, after choosing an amount you're comfortable spending on your backpack cover, compare prices from various retailers online or offline. 
Remember that even though some products may seem more expensive initially, they could be worth it if they offer superior protection against rain compared to cheaper options with less protective qualities. With this knowledge, you can make an informed decision while still staying within your budget for a backpack rain cover.
Now that you know what factors go into choosing a good backpack cover at an affordable price point, it's time to look at reviews from customers who have used them, giving greater insight into real-world performance versus marketing hype.
Reading Reviews
Before purchasing your rain cover, you must read reviews and ratings. In addition, you should pay attention to customer feedback concerning the quality of the material, its overall effectiveness, and any comments regarding how easy or difficult it is to install and use the rain cover.
Also, reading professional and user-generated reviews will give you an overall picture of a product's features, performance, durability, and price range. You can also compare different products to decide which would work best for you.
Shopping Online Vs. In-Store 
You have two main options available when shopping for a backpack rain cover, either online or in-store. 
Now let's look at the table below showing you some of the advantages and drawbacks of each option: 
| Online Shopping | In-Store Shopping |
| --- | --- |
| Convenience | Variety |
| Price | Touch & Feel |
| Reviews | Customer Service |
Online shopping is convenient and can often offer lower prices than what's available at physical stores. Not only does this make it easier to compare different models and brands, but you also have access to reviews of the products from other customers who have bought and used them. On top of that, most sites will offer free shipping for orders above a certain amount.
In-store shopping gives you the benefit of touching and feeling the product before buying it and getting assistance from store employees if you need help selecting something suitable. In addition, you can find better deals on certain items due to the store's seasonal sales or discounts. 
So while both methods have pros and cons, either could work out great depending on your needs and preferences. 
Now, let's move on to some features to look for in your rain cover.
Features to Consider When Choosing the Best Backpack Rain Cover 
Consider Weather Conditions
A good rule of thumb is: if you're going to be outdoors, it's paramount to consider the weather conditions.
So here is a breakdown of the weather conditions you will likely encounter:
Rainy Weather: Look for covers with waterproof construction and taped seams to keep your bag and contents dry.
Windy Weather: Ensure the cover has secure straps or drawstrings so it won't blow away.
Humid Weather: You need breathable materials that allow moisture to escape and reduce condensation.
Snow Weather (Extreme Temperatures): Look for an insulated material to protect your gear from freezing temperatures.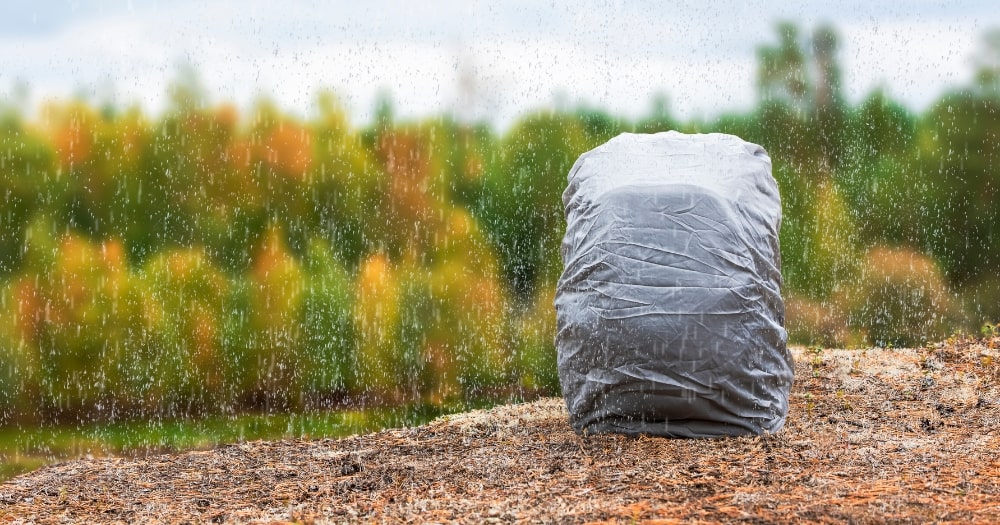 All these factors should be considered when selecting the perfect backpack cover. With the correct information and a little research, you can find a rain cover that will provide reliable protection from harsh weather conditions.
Now let's turn our attention toward quality and durability.
Durability and Quality Materials
Choosing the right material for a backpack rain cover is essential to keep your gear dry and protected. However, with many available materials, it can take time to pick the best one. 
You want something lightweight, breathable, waterproof, and durable. After all, you don't want your belongings getting wet in the rain! So what type of fabric should you choose?
First off, consider breathability. A good rain cover should be water-resistant without trapping moisture or heat inside the pack. That's why nylon and polyester are often used in these cases because they provide minimal resistance while protecting against wind and rain.
Nylon is one of the most popular fabrics for these covers because it's lightweight, waterproof, and surprisingly strong. It also dries quickly after getting wet, so there won't be any lingering moisture in your bag. However, nylon can be noisy when it rubs against itself or other materials in windy conditions.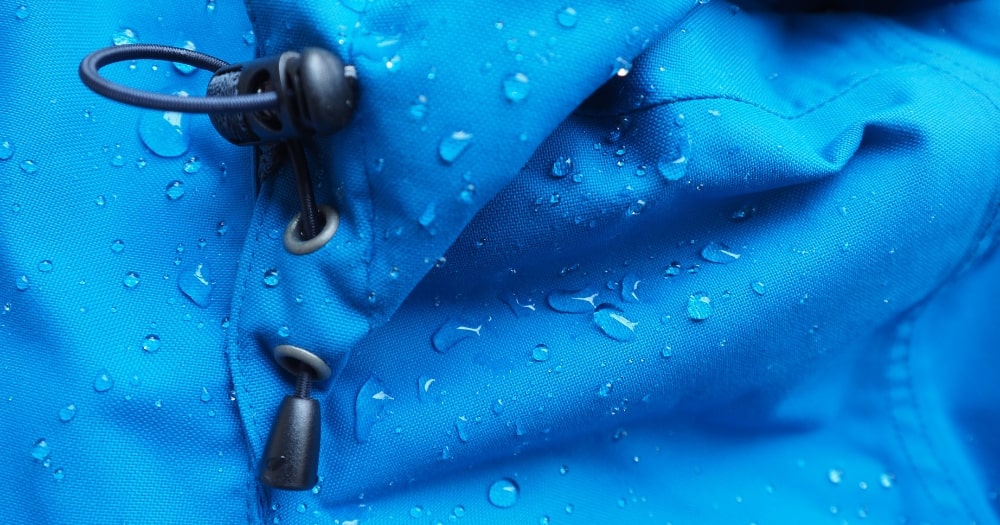 On the other hand, polyester offers similar benefits as nylon but with less noise. However, polyester tends to be heavier, so you may look elsewhere if weight is an issue.
Furthermore, waterproof fabric such as PVC-coated nylon or silicone-coated polyester should be considered when selecting a backpack rain cover. These are highly waterproof fabrics and durable enough to withstand harsh elements like wind and snow. They are also lightweight and packable, making them easy to store in your bag or pocket during travel or hikes. Not only that, but they also offer superior breathability, which helps prevent moisture buildup inside your bag from sweat. 
Additionally, some manufacturers may use advanced technologies such as DWR (durable water repellent) coatings, further enhancing their performance by keeping out even more water without compromising breathability.
In addition, reinforced stitching helps prevent any tears or snags over time while providing an extra layer of protection against water seepage into your bag. And remember UV protection – if you plan to be outside during sunny weather too, get a cover with this feature included!
Some extra features can make all the difference in your outdoor experience, and include adjustable straps, seams, and water-resistant zippers as must-have features for your rain cover.
Adjustable Straps and Seams
The straps should fit comfortably around the pack without adding too much bulk or weight. Adjusting the straps is easy; pull on either end to adjust the strap length to fit your backpack snugly. If you're using a two-strap system, adjust both straps independently to customize them for different bag sizes.
Rain covers also need adjustable seams in order to seal out moisture completely. Look for a rain cover with an adjustable drawstring hem at the top which will help keep water from entering through any gaps or openings between your bag and the rain cover. This drawstring can also tighten the slack along the sides of your pack if needed, allowing you to customize how it fits onto your bag.
The adjustable straps, seams, and zippers on a rain cover should all work together to protect your backpack from the elements. With these features, you'll have complete control over how well sealed off your gear stays during wet weather, giving you peace of mind as you explore! 
Using a Backpack Rain Cover
How to Fit Your Rain Cover to Your Backpack?
Now that you know the different types of backpack covers available, it's time to learn how to fit your rain cover into your pack. 
Watch the video below showing you how to fit a rain cover over your backpack:
Here are a few tips on getting the perfect fit:
Ensure all zippered pockets or straps are tucked inside the bag before attaching the cover. You want as little excess material as possible so water won't seep through openings. 
Then, look for adjustable straps and buckles at both ends of the cover, which allow you to cinch up snugly around your pack. Some models also feature drainage holes along the bottom edge so any collected moisture can easily escape.
These simple steps will help keep your belongings safe because, with a properly fitted backpack cover, you'll have peace of mind knowing that you're prepared for anything during outdoor adventures!
Now, some of you may wonder about the lifespan of backpack rain cover since nothing last forever! Generally, you can expect your bag cover to last anywhere from 1-3 years. This range depends on many factors, including how often you use it and how well you take care of it.
Maintaining your backpack's rain cover is vital to extending its life. To get the most out of your cover, here are some tips to help you keep it in good shape.
Maintenance Tips 
After all, if you invest in something that will protect your belongings, you want to ensure it always performs at its best.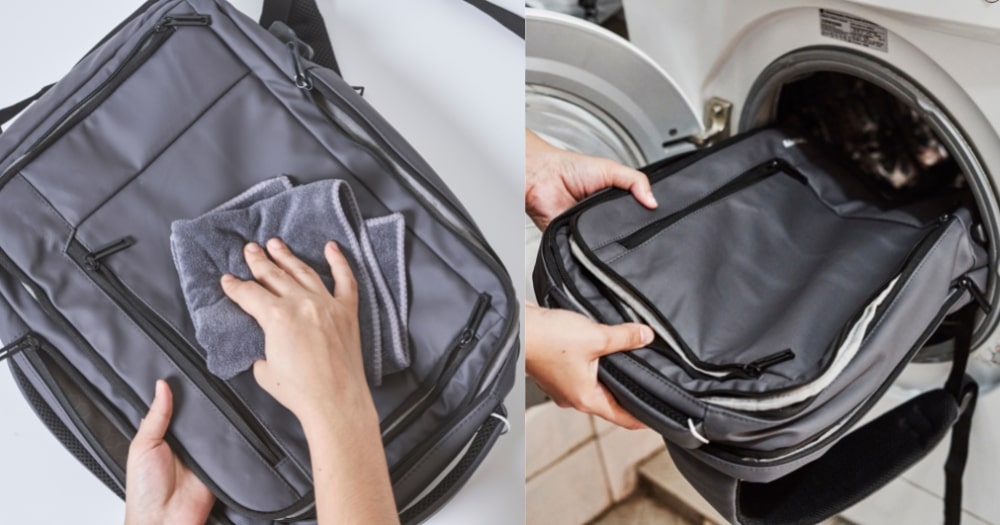 So, what does it take to properly maintain and care for essential outdoor gear?
First, rinse off dirt and other debris from your backpack cover immediately after each use. This will prevent any stains or discoloration due to prolonged exposure to the elements.
Once you're finished using your backpack rain cover, store it in a cool, dry place, so it doesn't become damaged by moisture or extreme temperatures. 
Keep it out of direct sunlight and away from heat sources like radiators since these can weaken both the fabric and waterproofing coatings over time. 
Regularly inspect your backpack's rain cover for any signs of wear or damage and replace it if necessary. 
Use mild soap and warm water when cleaning your backpack rain cover. Avoid harsh detergents or chemicals, which might damage its waterproofing capabilities over time. Be sure to rinse off all soap residue completely before drying to avoid any sticky residue forming on the surface of your cover. 
Once clean, allow the cover to air dry completely — don't put it in the dryer, and to make sure there are no wrinkles in the fabric, gently stretch your rain cover while wet and let them hang until they're fully dry.
It's also essential to apply waterproofing spray every few months on both sides of the backpack rain cover — even if it looks like it doesn't need it. This will help repel water so your bag stays protected during rainy days.
Caring for a backpack rain cover isn't difficult; it just requires regular maintenance! By following these simple steps mentioned above, you will get more mileage out of your backpack rain cover and save money in the long run by avoiding replacement costs. 
Final Thoughts 
So there you have it, a backpack rain cover is vital for any intrepid explorer. However, choosing the perfect backpack cover doesn't have to be daunting.
When deciding, prioritize durability, size compatibility, waterproofing capabilities, material quality, and visibility in low-light conditions, as it increases your safety in the wilderness.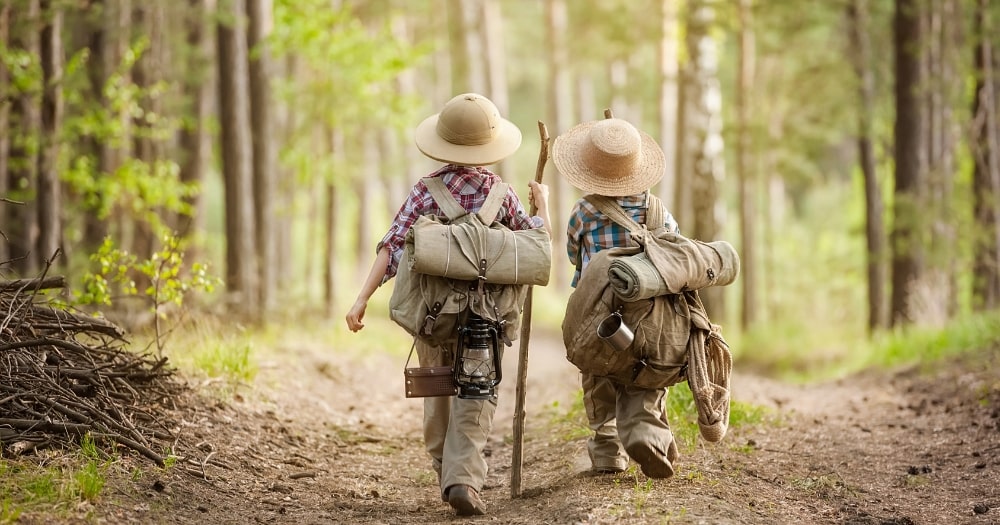 Following these tips will enable you to select the best backpack rain cover that fits your needs and allows you to embark on any outdoor adventure without worrying about your belongings getting wet. Happy trails!
If you have any questions regarding the backpack rain cover, leave a comment below. I will get back to you ASAP.