Whether you're a seasoned hiker or a weekend warrior, you have to have a rain cover for your backpack. You just never know when you'll need it. Let's explore the best backpack covers I think you should check out. And cheaper is not necessarily better.
Before we get started, let's review how to use a backpack cover. The covers need to fit snugly around your backpack. Any slack may allow water to seep inside. When bad weather hits, simply wrap it around your pack, pull the drawstring, and secure it in place.
Let's check out a few of the best backpack rain covers I could find.
1. Deuter Rain Cover III
Deuter is a German company established in 1898 that initially supplied mailbags and sacks to the Royal Bavarian Post. Their products are aimed at mountain sports, so they have a strong focus on the environment.
Here are the features of the Deuter Rain Cover III:
Waterproof to keep your gear dry.
45L to 90L: fits even very large backpacks with a compact sleeping bag and pad.
100% Polyester for fast drying.
Polyurethane coating makes the cover water repellent.
Taped seams for optimal protection.
Luminous colors for added visibility.
2-year warranty from date of purchase.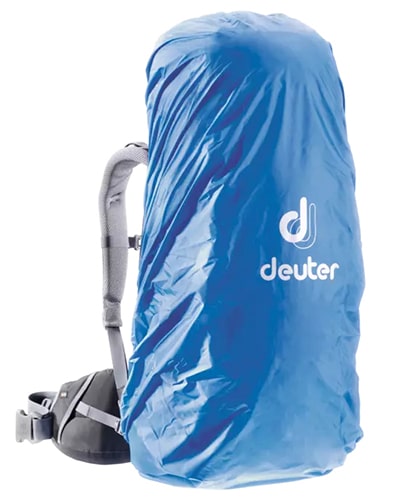 One of the Deuter Rain Cover's best features is the lifelong repair service of all their backpacks and their free return policy.
2. Kelty Rain Cover
Kelty was established in 1952 and is located in Broomfield, Colorado. Their goal is to provide products for outdoor play.
Below are features of the Kelty Rain Cover:
It only weighs 5 ounces, so it's very lightweight.
100% Nylon means a very strong cover.
One interior slip pocket for additional storage.
Internal adjustable pull cord to secure the cover in high wind.
Available in two sizes: Medium size fits a backpack up to 49L (3,000 cubic inches), and large fits backpacks ranging from 49L to 110L (3,000 to 6,700 cubic inches).
Easy storage.
It comes in two colors: charcoal gray and olive green.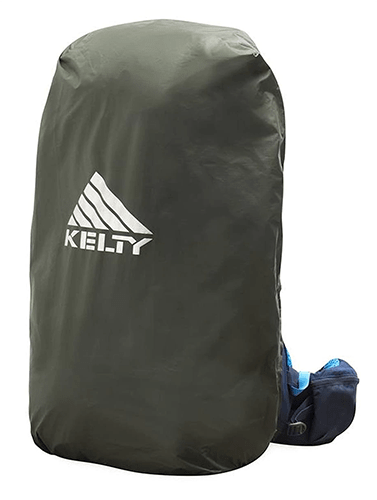 A limited warranty against defects for the lifetime of products purchased in the United States and Canada.
3. Osprey Hi-Visibility Raincover
The Osprey company had a humble beginning in Santa Cruz, California, back in 1974. The company was founded by Mike Pfotenhauer, who began sewing backpacks for customers in his local area after finishing college. 
Let's check out the features of Osprey's raincover:
Comes in hi-visibility Electric Lime for easy visibility.
Made of nylon, making the raincover stronger than its polyester counterpart.
20 Liter capacity.
Wrap-around cinch attachment.
Hipbelt and harness attachments.
Blinker light for added visibility.
Reflective graphics for additional visibility.
Folds into its own case and packs down to the size of a baseball.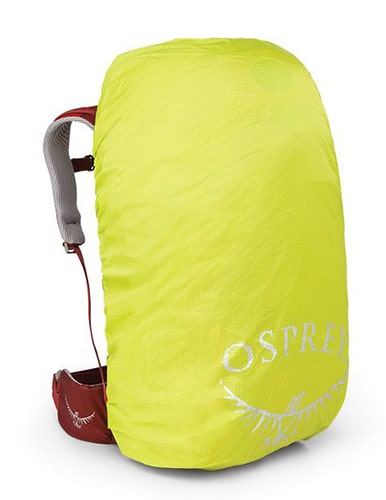 What makes the Osprey raincover unique is the roll-top closure that allows you to further compress the cover for added protection against bad weather. Another bonus is the blinker light that comes with it.
4. Gregory Pro Raincover
The company was founded by Wayne Gregory in 1977 and is located in Salt Lake City, Utah. Any new products are tested by simply walking outdoors. The Gregory products have won many awards for innovation, making it a world leader in outdoor equipment.
Here are the features of the Gregory Pro Raincover:
Five different sizes ranging from 20 to 100 liters, so there's no excuse for finding the perfect fit.
Double-stitched seams for added strength.
40D Polyester makes these covers very lightweight.
Drainage point at the bottom to release any water that gets inside.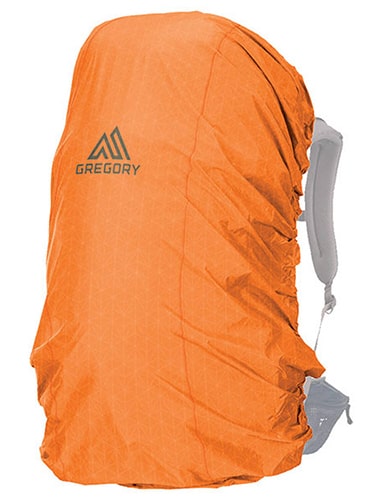 Gregory products are guaranteed free from defects and built to last a lifetime and come with a lifetime guarantee. Any product defects are fixed or replaced. The unique features of this cover are the double stitching and drainage point.
5. REI Duck's Back Rain Cover
REI was established in Seattle in 1938. Their first product was an ice ax. In 1938, the company formed a co-op with 21 others, each contributing $1 for a lifetime membership. That's when they expanded to create outdoor gear. Today the company has 19 million lifetime members!
Let's check out the features of their backpack rain cover:
Large range of six different sizes.
Three colors: gray, green, and orange.
Seams are tape sealed to keep your pack dry.
Drain holes in the bottom of the cover to release moisture.
Storage pouch doubles as a pocket for accessories.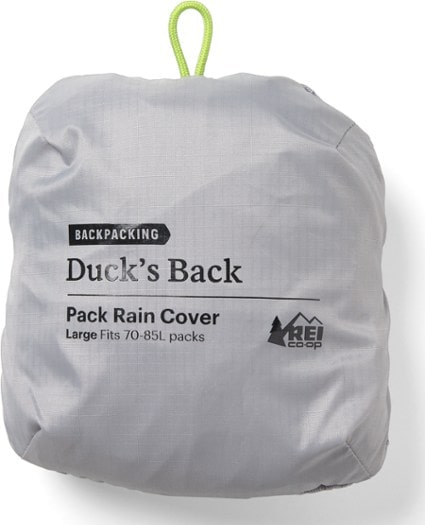 REI doesn't just make outdoor gear. They also organize classes and outdoor activities across the United States, such as hiking trips, snowshoe tours, climbing, camping, and water sports.
100% Satisfaction Guarantee policy on all new purchases. Replacement or refund for up to one year of purchase. The guarantee does not cover normal wear and tear or damage caused by improper use.
Final Thoughts
There are plenty of choices when it comes to backpack rain covers. All are high-quality covers with several different features. All have excellent return policies, warranties, and guarantees. You couldn't go wrong with any of these backpack rain covers.
Have you bought a backpack rain cover recently? Let me know what you think by leaving a comment below. I'll get back to you immediately.