When you are going on a day hike, you might think that bringing a hiking backpack is too cumbersome for packing a bottle of water and a few snacks. So, what is the alternative, you might ask? Well, the North Face Fanny pack is the answer you are looking for, so keep on reading my review below!
Your first question might be: Why choose a North Face bag? For starters, the North Face company is a reputable brand, founded in 1966. Furthermore, the company specializes in offering high-performance climbing, backpacking gears, and sportswear for athletes and outdoor enthusiasts worldwide.
Without further ado, let's take a closer look at some of the awesome features of the North Face fanny bag:
Features
The North Face fanny pack has a 4L capacity (244 cubic inches). 
The lumbar pack offers ample storage space with its main compartment and one invisible zippered front outer pocket for easy access to either your daily essentials (phone, wallet, keys) or small hiking gears (maps, compass, snacks, etc.). 
Its adjustable webbing strap enables you to wear the pack either around the waist or cross-body to fit your preferences.
The North Face pack is sturdy as it is made of recycled polyester 600D.
Lightweight as the lumbar pack weighs in at 6.7 Oz (190g).
Its dimensions are as follows 14.56" X 2.75" X 5.9" (37 cm X 7 cm X 15 cm).
The fanny pack is available in 4 awesome colors.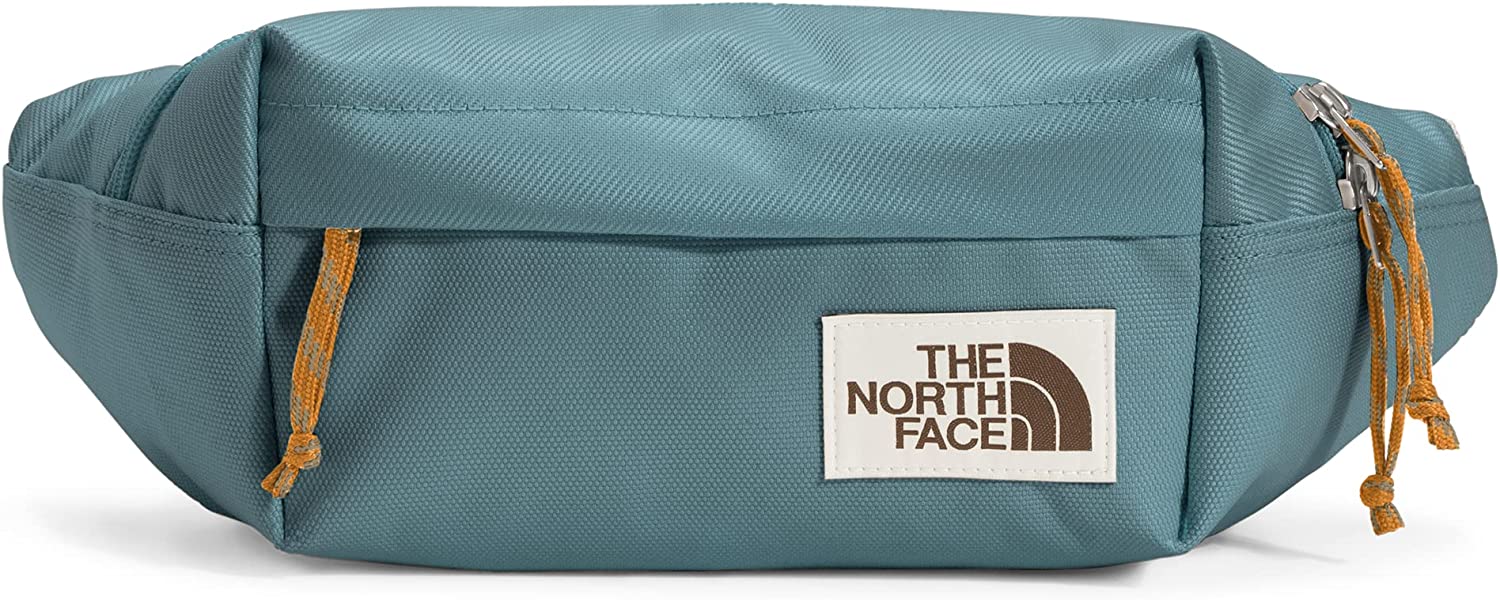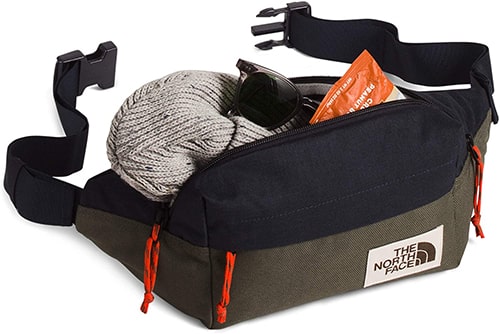 The North Face fanny pack has a lifetime warranty against any defects in materials and workmanship. This means that North Face will either repair or replace the lumbar pack free of charge if you bought it from an authorized North Face reseller.
My North Face Fanny Pack Review
So, here are my thoughts and experiences about the North Face fanny pack.
My first encounter with the North Face bag was last year. I received one as a gift. At first, I did not know what to make of it. Because I always thought that wearing a waist bag looked awkward. Nonetheless, I decided to give it a try, and as it turned out, I was pleasantly surprised. Now I don't go hiking without my waist pack!
The fanny pack from North Face is a versatile bag because it can be used while traveling, exploring the great outdoors, or in everyday use.
The Fanny bag is quite spacious as it allows you to store all your small essentials close by for quick access. It is an excellent alternative to stuffing your pockets with your everyday items while on the go.
The lumbar pack is comfortable to wear either around your waist or looking to make a fashion statement cross-body.
The majority of users find the North Face bag well-sized to fit their gears, sturdily built, and well-priced. 
You will find a few customer reviews on Amazon, where the users complain about the strap being slippery, thus loosening up and doesn't hold the bag fasten to your waist.
Even though the fanny pack is a great asset to have while on a hiking adventure. However, if you are thinking of going for a multi-day hike, you will need more storage capacity. If you find yourself in that situation, then you should take a look at my #1 recommendation when it comes to a hiking backpack as your extra companion for hitting the trail.
Now, let's talk about the Pros and Cons of the North Face Fanny pack:
PROS
Sleek-looking fanny pack.
Roomy with more than enough space for your daily needs.
Lightweight yet made of durable 600D Nylon.
Lifetime warranty.
Awesome customer service.
CONS
Some customers complain about the webbing strap when the pack is worn around the waist as it loosens over time.
Verdict
The North Face Fanny pack is a great companion to have while on your day hike and the perfect bag for our hectic lifestyle. It allows you to stow all your hiking essentials or your daily items and gadgets readily close by without bulging your pockets!
Overall, about 90% of the users are very satisfied with the North Face fanny pack purchase. They find the bag well-sized, stylish, and durable.
The North Face bag is definitely worthy of being around your waist!