Many hiking backpacks are available today on the market, and many of these backpacks are water-resistant. Still, very few can claim to be truly waterproof. In this Ortlieb Atrack Backpack review, we'll look at the many features it has to offer and some pretty handy accessories that we'll get to later…
Let's face it, getting caught in the rain while out on the trail is a miserable experience. Sure, you manage to find shelter. Yet, you go into a panic when you discover that all your clean clothes, socks, food, and everything in your backpack are completely soaked. And there's nothing worse than hiking a trail in wet socks and shoes. You know how that feels, right?
Well, it so happens that the Ortlieb Atrack Backpack is genuinely waterproof and was designed with convenience in mind. It's easy to pack and easy to locate items with a zipper that runs the backpack's length. Let's take a look at some of the features.
Features:
TZIP zipper runs down the middle of the pack, making it seem like a duffle bag.
Four interior pockets.
Two outside net pockets for water bottles.
An adjustable back panel allows for different heights.
Adjustable shoulder straps make it more comfortable.
Padded hip belt with zippered side meshes pockets.
Four compression belts.
It comes in three sizes: 25L, 35L, and 45L, and weighs in at 50.4 oz (1430 g), 51.9 oz (1470 g), and 55.0 oz (1560 g), respectively.
Available in three different colors: black/beige, petrol, and rooibos. 
Hydration hose port.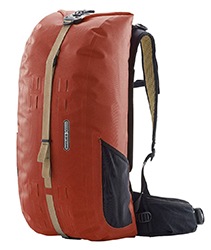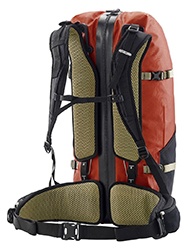 Before jumping into the Pros and Cons, watch the video below showcasing some of the awesome features of the Ortlieb Atrack Backpack:
PROS
Waterproof and completely air-tight.
TZIP zipper allows for easy access while also being a theft deterrent.
Excellent accessories add to the versatility of this backpack.
4 zippered inner pockets help keep your gears organized.
5-year limited warranty.
CONS
The Ortlieb Atrack backpack is a little on the heavy side in comparison to other backpacks in its category.
Stiff Zipper. Because the zipper is waterproof, it may be difficult to move. Some backpacks come with a lubricant. If not, Ortlieb recommends applying a lubricant if you have trouble with the zipper.
It was challenging to find anything negative about the Ortlieb Atrack backpack other than perhaps the weight and maybe a stiff zipper.
The TZIP zipper hidden between the back panels means that should you drop your backpack, the zipper won't be damaged.
Ortlieb Atrack Backpack Accessories
Few companies can make the claim that their backpacks are completely waterproof. This backpack is waterproof, and the nylon material is also tear-resistant and PVC-free. Another added benefit is the accessories that can be purchased separately. So let's check them out.
Atrack Hydration System: The Atrack Hydration System is designed explicitly for this backpack with a 2-liter hydration bladder, bite valve, removable tube, and protective cap.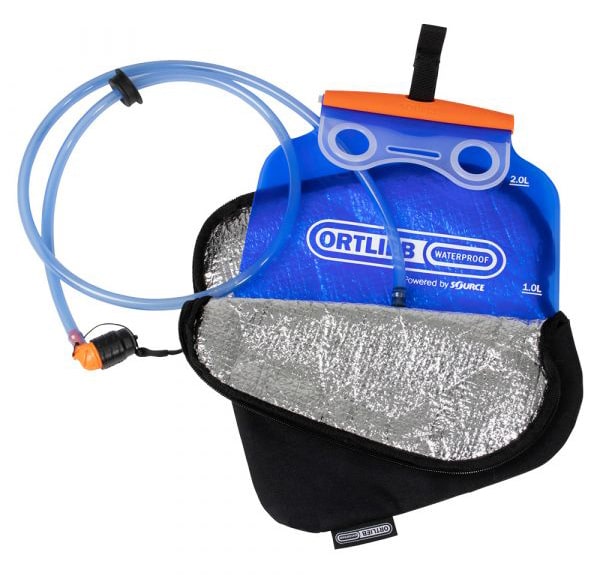 Here's a video on how to install your Atrack Hydration System.
It also comes with a thermal sleeve that keeps water cool for hours.
Attachment Kit for Helmets: great for climbers and bikers. The attachment kit solves the problem of carrying your helmet with you when you're not wearing it. It can be attached to the front or top of the backpack. Your helmet will fit snugly and securely.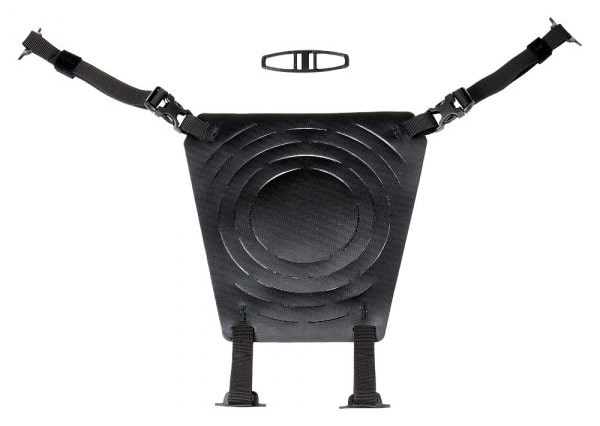 There's also a specially designed toggle to use with helmets with large vents that can be attached to your backpack belt or by using a daisy chain. The attachment kit includes 2 helmet toggles.
Gear Attachment Kit: for the true winter enthusiast. This kit is a must if you enjoy winter sports like skiing and snowboarding. The attachment kit can easily hold trekking poles, snowboards, snowshoes, skis, and even tripods.
These attachments allow you to securely attach gear to your backpack while preventing rattling and shifting.
All the elements can be connected to daisy chains or tension straps. These straps may also be compatible with other Ortlieb backpacks.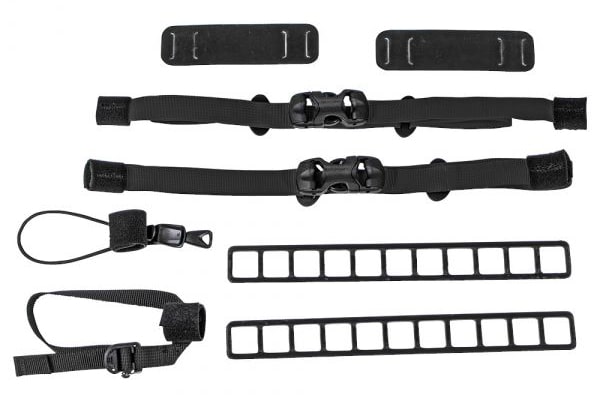 These accessories make this Ortlieb Atrack backpack even more versatile than other more popular packs. Now that we've explored the product, let's take a look at the company. Where did it all start? 
The Ortlieb Company
Ortlieb backpacks were born out of a frustrating bike trip taken by the original founder, Harmut Ortlieb. In 1981, after experiencing a very wet bike trip in southern England, he returned home. He began making backpacks out of truck tarps using his mother's sewing machine. 
The company was then founded in 1982, and all products are made in Germany. Its mission is to produce the best waterproof products on the market. Today their product line includes bike bags, backpacks, and accessories. Many of these products have won awards over the years.
Final Thoughts
The Atrack backpack is a tough piece of equipment that checks all the boxes. It's not just for hitting the trails. Take the Ortlieb Atrack Backpack canoeing, skiing, or any other water sports outing. You'll never have to worry about your gear getting wet.
It comes in three different sizes and three different colors with an adjustable back panel for better fit and comfort.
Having the zipper between the shoulder pads means that you won't have to worry about traveling with this backpack. There's no chance that the zipper will open even accidentally.
If you have any questions or comments about the Ortlieb Atrack Backpack, please be sure to leave me a comment below. I'll get back to you as soon as possible.