There are several different definitions of cool. Everyone has their own tastes, and as such, what can appear to be cool to one person isn't necessarily cool to someone else. Therefore, coming up with a list of cool hiking backpacks, turned out to be not an easy task after all, as I had to accommodate a plethora of different tastes!
Challenges, however, are merely precursors to lessons learned. I first had to sum up all the possible definitions of cool, before starting to look for hiking bags that are the embodiment of cool.
After a fair amount of homework and much consideration, I came up with my own definition of what makes a hiking bag cool. It derived from necessity; the need to shine, the need to embody an idea, and the need for practicality.
So, based on those 4 criteria, I listed below my picks:
The Coolest Practical Backpack
Some people might say that practicality is the most popular definition of cool. However, when you consider all that hiking entails, a ready-prepared hiker with everything needed for their hike stands out as the coolest hiker in a group.
The Mountaintop 70L Internal Frame Hiking Backpack sits at the summit of backpacks that provide all a professional, hardcore hiker needs for a successful hike.
There's nothing cool about having left something behind because you did not have enough space to pack it. However, with a total volume capacity of 70L, there are few backpacks cooler than the Mountaintop.
This backpack is suitable for camping, hiking, and backpacking as well as being a great companion when traveling.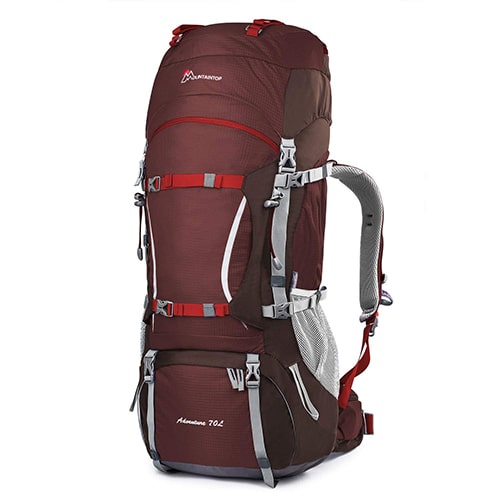 The Mountaintop 70L backpack is water-resistant, has an internal frame for balance, and has enough pockets and compartments to carry everything you need for your outings. It also has a sleek design that comes in ten different colors.
Pretty cool, I'd say.
The Coolest Kid's Backpack
Hiking is an excellent family activity and finding a backpack that not only suits the little one's needs but also has an acceptably cool appearance is of extreme importance, as any parent would know.
The MAYZERO Waterproof Backpack for kids stands out as one of the few appropriate options out there by balancing what is needed for hiking trips as well as the eventual owners' tastes.
It's a large capacity backpack with many pockets. This feature alone is a must when packing kids' items because it allows you to separate clean items from dirty ones.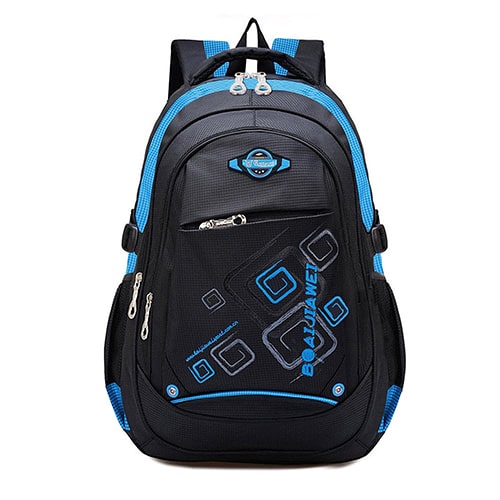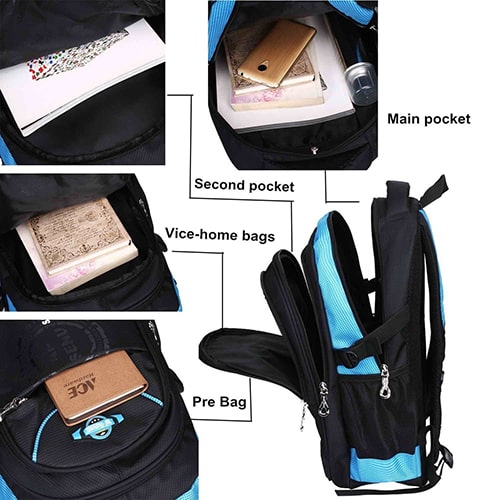 The MAYZERO hiking bag is waterproof and made of high-quality, lightweight, breathable nylon fabric material. Also, it has adjustable shoulder straps, which ensure users don't feel the strain.
The MAYZERO backpack is very versatile and perfect for primary and middle school students' daily use, hiking, camping, and traveling. Furthermore, what makes this rucksack even cooler, in my opinion, is that it's available in 14 different colors!
The Coolest Canvas Hiking Bag
Trekking through rough and unknown terrain has a rich history and has been around for centuries, and all hikers wish to carry on the noble tradition.
Looking at the part tends to have as much appeal as the activity itself, and the Ibagbar Canvas Backpack does this better than any other.
It's made from high-density cotton canvas, and its durability is as attractive as it looks. It comes with various compartments, including a hidden one, as well as the expected side pockets.
It's a versatile bag as you can carry it in many different ways (duffle bag, handbag, briefcase, or suitcase), which you might want to do when you're done role-playing in the bush and simply want to show it off in public.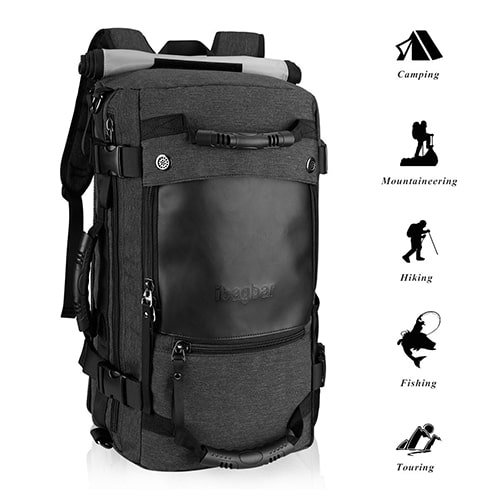 The Ibagbar Canvas Backpack with its sturdy design and volume capacity of 25L allows you to fit all your essentials and so much more! It's a perfect fit for everyday use, hiking, camping, traveling, and school homework!
The matching leather pouches and notebooks are sold separately if you want to complete the cool look.
Noteworthy Mentions
ARMYCAMOUSA Military Backpack
This backpack is hard to exclude from the list of cool hiking backpacks out there. Its mere design and the idea behind it are sure to be something of an attraction to a substantial amount of people.
This expandable Tactical Rucksack is made of high-quality 600 Denier polyester material, making it tear-resistant. The backpack is outfitted with heavy-duty zippers and is water-resistant, therefore keeping all your essentials dry.
The ARMYCAMOUSA Military Backpack is very versatile and fitting for many outdoor activities such as hiking, camping, and trekking. The backpack is available in 7 different cool colors.
OneTigris Dog Pack
Family hiking has been mentioned, but as is often the case, dogs tend to be part of many families, and they too enjoy hiking.
This cotton canvas pack is a lightweight, comfortable, and useful item to have when bringing along a man's best friend to your hiking trips.
The dog also gets to carry some of its own weight, so you're not jeopardized. It looks pretty cool too.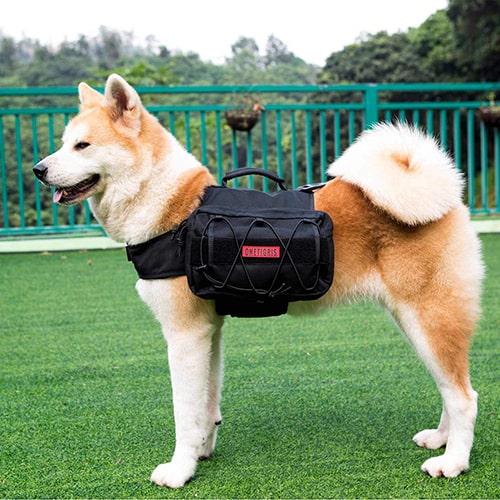 Conclusion
So, here you have it, my picks for the coolest hiking backpacks on the market.
Now, what do you think? Do you agree with my choices? Share your thoughts on the coolest hiking backpack out there by leaving a comment below.