Hiking can be exceedingly tedious, even before you begin your journey. Most people believe that walking on for days without being hopeful about the existence of human inhabitants nearby is the most intimidating as well as an exhausting feature of hiking. However, in a hiker's mind, it's the packing in anticipation of the outcomes of the most tiresome adventure.
Imagine preparing to pack for a week-long trip to the world's most dangerous terrain. That, itself, is a nightmare compared to the actual task of trying to explore the overwhelming creation of nature. Before you start worrying about your life, you'll need to fuss about packing space, the triviality of the items, and your memory betraying you.
What's Wrong with Hiking Backpacks?
Not that all hiking backpacks seem to pose a threat to the rigidity of a hiker's spine, but most often, the designers seem to dislike the added term of "back" with the pack.
The poorly designed features, size issues, and dangly straps are namely a few things that are wrong with some of the hiking backpacks. Here are some of the problems associated with most hiking backpacks:
Last in First Out – Most hiking backpacks are cylindrical in shape, so it tends to tuck away the initially packed goods to the bottom of the bag. So, you'll face an added struggle (as if you don't have enough on your mind) when you need to search for something.
Friction and the Danglers – The dangling straps are used for compression and gripping of the bags. You might face problems with the straps, because every time it is exposed to a little bit of wear and tear, it gets damaged. Ultimately, the straps become loose and stop fulfilling their purpose.
No Locks – The hiking backpacks come with the infamous zipping mechanism, and hence, there's no facility to lock the bag.
Not One Size Fits All – Design errors lead to less space for hoarding goods that you need, and so, you'll have to carry more luggage to stack all the items you require.
What Is the Best Size for Hiking Backpacks?
Hiking backpacks range from a size 25 liters to 85 liters. That includes a broad array of sizes, and you're required to choose from this range based on your hiking requirements.
Small backpacks are at about 25 liters, and they are useful in case of light travel and as daypacks. If you need comparatively small goods such as a camera, flashlight, a book, or a jacket, then such rucksacks are ideal. Also, they can be used for weekend getaways if you're a light packer.
Backpacks that are 65 liters or more are large and can cause discomfort while traveling. You can use these knapsacks when you travel for longer than a week.
The ideal size for backpacks is between the ranges of 35 liters to 45 liters. Such bags are incredibly convenient to carry and fit almost everything you need for your hiking trip.
Most airlines allow carry-on luggage up to 22"x14"x9", which is 2772 cubic inches in volume (that is 45.2 liters when converted).
A Few Good Backpacks
Tortuga Outbreaker Backpack
Locking zippers so you don't need to have constant awareness and worry about your belongings.
A padded hip belt for your comfort.
It is available in both 35 liters and 45 liters.
Weather-proof and water-proof.
Adjustable suspension system to fit people of all sizes.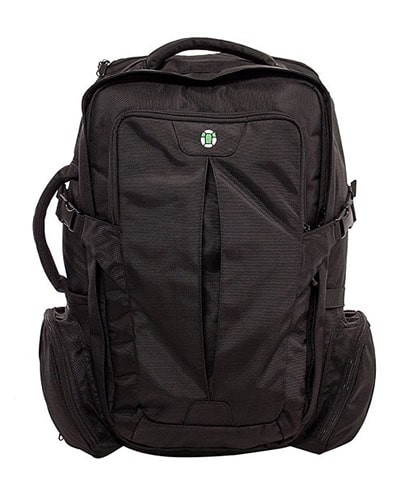 Rick Steve's Convertible Carry-On
A panel that fully opens to give you access to everything.
Hidden backpack to store all your essentials.
Suitcase design and handles to hold the bag when your back is too sore.
Extra pouches for shoes and dirty garments.
Comes in carry-on sizes, but can expand with the use of compression zippers.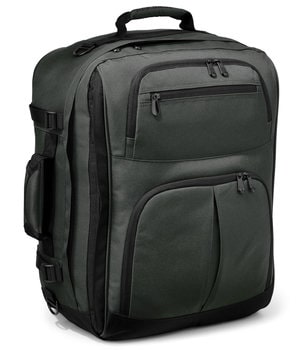 Minaal Carry-On Backpack
Danglers are absent; the straps are kept hidden.
It is available in 35 liters of size.
Locking laptop compartment with a suitcase-style opening.
Exterior pockets are present in abundance.
Rain cover to save your belongings in case of a thunderstorm.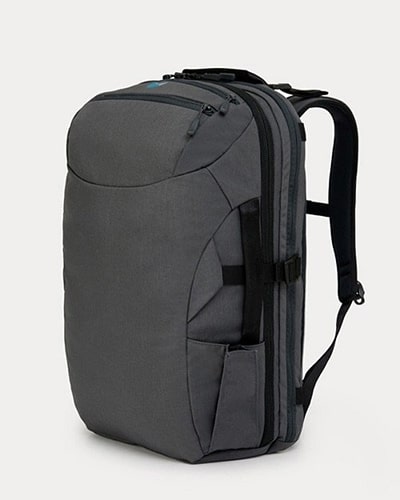 Gregory Border 35
As the name suggests, it comes in 35 liters of size.
Full-length loading panel, which means you can store goods "suitcase-style."
It also has a full-length loading panel for laptops to avoid inconvenience for checking at airports.
It is an economical alternative to the Minaal Carry-on Backpack.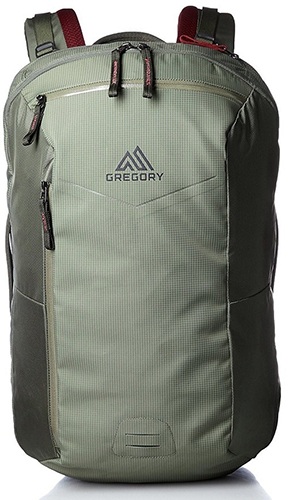 Final Thoughts
Most travel backpacks come with some other deficiencies. It is crucial for you to choose wisely in accordance with your needs.
For a person willing to sacrifice a few extra banknotes for a backpack that can sustain in the harshest of weather, Tortuga Outbreaker would be your best choice. For individuals who can relate to clean-freaks, Rick Steve's Convertible Carry-On would be a better option.
Nonetheless, once you find your ideal backpack, hiking is all that's left to do!