The Most Durable Packable Travel Hiking Backpack by Outlander is a versatile backpack, ultra-light, and completely reliable. Made of nylon fabric, the bag is extremely sturdy and comes with a lifetime warranty which speaks highly about the quality of the travel bag.
Listed on various websites as the best travel daypack due to its different features, the travel backpack by Outlander is a must-have backpack for all travel enthusiasts and even new trekkers.
The travel bag also has many small zipper pockets which are compact so you can easily store more items.
PROS
Extremely Large: The bag looks comparatively small, but you can fit in plenty of items. The bag expands, and you can easily add all your essentials for a two or three-day trip.
Fold and Unfold: The travel bag can be quickly folded to the size of a zipper pocket to store away in your luggage when not in use and unfolded to carry items only needed for your hike.
Waterproof: The bag is waterproof, thus perfect for a trek on a rainy day or while going to destinations that require a boat ride. The bag promises to keep all your belongings dry.
Stress Points: The backpack is reinforced with stress points, so you can fill it up as much as possible without tearing it or causing damage to the zipper.
CONS
Some users complained of poor stitching.
Why Choose the Outlander Ultra Lightweight Packable Travel Daypack?
The travel backpack from Outlander has more pros and features than cons. The cons only present themselves when users stuff the bags over their capacity, which results in the seams opening up.
The backpack is available in two sizes— the 20L unfolds up to 16.92 x 10.63 inches while the 33L unfolds to 19 x 13 inches. It is better to purchase the larger bag size since you can use it to fit more items without compromising the seam's work.
The shoulder straps of the bag are well padded, so in case you are going on a trek for a long duration, you don't need to worry about having the straps irritate you. They are mesh padded straps, which give a soft feel and are very comfortable to use. You can easily carry the bag around without developing shoulder aches at the end of the day.
This multipurpose bag is available in vibrant colors which make it easy to spot amongst the airport luggage, and also in earthy colors so you can blend well with nature during your adventure.
The Outlander bag has the strength to hold heavyweight due to its nylon fabric while the backpack is extremely light by itself and weighs only 0.46 pounds (20L). The travel bag comes with an identification tag which makes it easier to spot.
Its foldable feature makes it stand out from its competitors.
When you are packing for a trip that requires many stops, you can carry all your belongings in your luggage and add just the essentials you need to explore the place in your Outlander Travel Daypack.
Hence leaving the luggage at the hotel and taking the lightweight backpack to discover your new destination.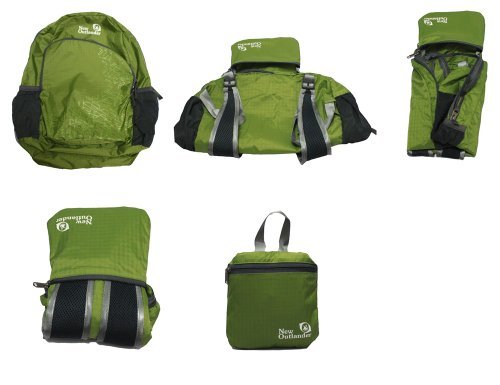 While on treks, hikes or even everyday travels you need to keep small items such as keys, tablets, and wallets in places you can quickly reach. Keeping them in the main compartment and searching for them every time you need them is a daunting task, but what if you have a zipper pocket that you can easily reach? Doesn't it make the whole process quicker and simpler?
The Outlander durable travel backpack has a number of zips and pockets that you can easily reach, and you can also lock these zippers for your safety concerns.
If you are traveling to a destination that receives plenty of downpours or going on boat rides or performing water sports activities, you cannot afford to pack your bag in plastic every time. The Outlander travel bag is made out of a waterproof material so whether you're hitchhiking in the rain or rowing a boat, your essentials are all safe. Though sinking it completely in water won't keep your belongings dry for long.
The stylish and roomy pack is suitable for everyday use and also for occasional explorers. Whether you are an experienced trekker or a first-time hiker, the bag can accommodate all your essentials since it can fit a lot of items in it.
You can use the two side pockets to hold water bottles or an umbrella; the features of the bag make it apt for all your needs.
Outlander believes in the capabilities of its backpack, and therefore offers a lifetime warranty on it. If you are not satisfied with the most durable daypack, you can exchange it or return it easily.
Most customers are happy with the space available in the bag and the quality of the material. It doesn't wear off quickly and can be used for multiple hikes.
When compared to its competitors, the backpack offered by Outlander is a better alternative due to its various features.
The bag is waterproof, durable, and foldable while other bags in a similar price range can't offer half as much.
Stress points are reinforced into the daypack to avoid an unlikely situation if the pack is stuffed more than its capacity; it makes the backpack stronger and long-lasting.
Verdict
The backpack by Outlander is the most durable for the price you pay and comes with a lifetime warranty.
It offers astounding features such as high packability and waterproof material which is vital on hikes.
The sturdy and stylish travel bag is very comfortable and can easily be folded and stored when not required.
The overall rating received by the Outlander Ultra Lightweight Packable Water-Resistant Travel Backpack on Amazon is extremely positive with customers talking highly about the storage capabilities the daypack holds.
Convenient, light, and secure, it is a must-have piece of luggage that everybody must own.
Last update on 2023-10-01 at 22:15 / Affiliate links / Images from Amazon Product Advertising API