In today's world, where kids are under constant stress due to school and related activities, a little time spent in the lap of nature is ideal. For that reason, it is very common nowadays for kids to go hiking—be it with their parents, friends, or on a school trip.
Moreover, hiking cannot be done without a very key item—the backpack. Every kid who wants to hike needs one. However, buying a rucksack for youngsters requires much thought before your money is invested. With a lot of options available online, it can be confusing.
Therefore, we will look at some of the best backpacks available for kids on the market, and evaluate how good or bad they are, so that you can form an opinion before opening your wallet.
MANSOV Water Resistant Backpack 20L Foldable Hiking Packable Lightweight Daypack Travel Bag
Mansov makes this 20L backpack, especially for children. Available in 9 exciting colors, this backpack has numerous features which are ideal for not only hiking, but also for vacations, cycling, climbing, and other day-to-day use.
Features
It is water resistant.
It has adjustable straps which are made of mesh.
The capacity of the backpack is 20L.
Weighs only 0.3 pounds.
It is made with high-quality nylon, which protects it from getting torn.
Has a two-way SBS zipper (abrasion resistant).
Pros
It is very lightweight, and hence it is ideal for kids.
With a height of only 5.7 inches or about half a foot, it is suitable for children who haven't grown tall yet.
It is foldable, and hence it fits pretty much anywhere.
It has zippered pockets on the inside.
Has a small pouch on the outside for things which need quick access.
Cons
For kids who want to pack extra clothes, the size may not be that good.
Some users have complained that the strap handle on top is weak and rips apart relatively quickly after using the backpack for some time.
Verdict
The nylon fabric which it is made from is amazingly strong, and hence, makes the backpack very durable. The Mansov pack is very appropriate for daily use. Since it is very light, it also protects from strain.
The top handle strap seems to be an issue, but with a lifetime warranty being offered by Mansov, buying it is not too much of a risk. It is a good product overall. 
ZippyRooz Small Hiking Pack for Girls, Boys, Little Kids, and Toddlers
This product from ZippyRooz is available in only 2 colors, but both are quite bright and attractive to children. The backpack targets little customers between the ages of 1 to 5 years.
Features
It is made from 600D polyester and is slightly more than a foot long.
Weighs 0.7 pounds.
The capacity is 10L. Has bungee cords on the front to hold stuffed animals and soft toys.
Has mesh pockets on the sides for water bottles. It also includes a slot for an ID tag inside its main compartment.
Pros
Even though the ZippyRooz backpack's back is padded, it has a good airflow, which helps your little one stay cool, even after long walks.
It has a whistle holder on the sternum to call others when in need.
Contains zippered compartments both inside and on the front, which can carry pencils, small notebooks, etc.
The main compartment is large enough to fit a sweater and extra clothes.
Cons
It is small and is not suitable for bigger kids.
Verdict
Apart from the height and small space, the ZippyRooz hiking pack is the perfect item for the adventurous tyke. The length is fine, and the padded back as well as shoulders, help prevent strain. Almost every customer has found the product perfect for their kids and has recommended this backpack to others.
HABA Terra Hiking Backpack for Kids
HABA specializes in products for children and toddlers. They have been making a variety of products, from toys to baby beds. Now they have brought out their hiking backpack, which is available only in one color. However, truth be told, it looks very cool. HABA knows what little kids like, but here they have also targeted teens, bringing out this backpack for ages 6-15 years.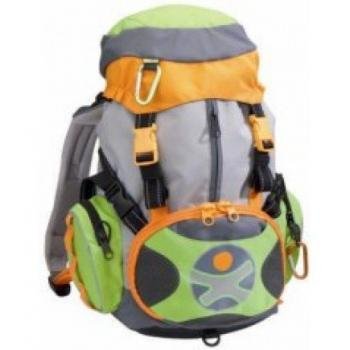 Features
It weighs 1.8 pounds, and so you know it is not for very little.
It has inner and outer pockets.
It contains a snap link of aluminum.
Its capacity is 15L, and the material used to manufacture this knapsack is polyester.
Pros
It is unisex and can be used by both boys and girls, despite being available in a single color.
Apart from the main compartment and side pockets, it also contains a map pocket, something we don't see very often.
The backpack has a lot of clips and carabiners for hanging hiking equipment or water bottles.
It has padded shoulder straps, protecting users from strained shoulders.
The rucksack also contains a rainproof cover to protect the whole bag.
Cons
Since it is a bit on the heavier side, it may not be for small kids.
Does not contain a waist strap, so all the weight has to be carried on the shoulders and back.
There is no system for a hydration bladder.
Verdict
HABA has been making products like these for quite some time, and therefore this can be trusted. The rainproof cover is a great added feature. The material is great and durable but could do with some set-up for a hydration bladder. A good buy for smaller kids, but not necessarily teens who are looking to become serious hikers.