The Teton 2100 Sports Canyon Backpack, is an ideal choice for novice canyoneers. It is perfect for outdoor sports like backpacking, camping, hiking, and other outdoor activities. The Teton 2100 Sports Canyon Backpack comes with a rain cover and a dry bag. 
For a rookie, it is comfortably priced. However, that does not mean that the Teton 2100 Sports Canyon Backpack is in any way lacking!
Features
It is a perfect canyoneering pack for a beginner. It has a lot of space to store all your gear for a weekend hike.
The Teton 2100 Sports Backpack is sized at 2,100 cu. in., i.e., 24″ X 15″ X 11.5″.
These hiking backpacks are made of superior-quality materials, which provide them with longevity.
It has a honeycomb ripstop 190T 2MM shell that makes it easier for you to carry heavy items safely.
The waist pads are reinforced and made of durable material. These straps can be easily adjusted according to the weight you are carrying.
It also has lower and upper gear ties, and a daisy chain to accommodate extra gear.
The contoured harness adds comfort. It comes with a chest adjustment facility which means that the pack is always adjacent to the back and doesn't hamper your movements.
Without the dry bag, the Teton 2100 Backpack weighs 4 pounds. It is lightweight and super comfortable.
It can be used by anyone; young or old, women or men.
It comes with a rainfly and a dry bag. The dry bag is made of 10.5-ounce RF, and PET welded seams. It keeps the gear from getting wet, every time.
It comes with a limited lifetime guarantee.
The Teton 2100 Sports Canyon Backpack torso length is adjusted at a fixed 19 inches.
It comes in Teton orange.
PROS
It is a perfect entry-level backpack for canyoneering.
It has a 35-liter capacity and can hold a cooking mini-stove, ice ax, tent poles, sleeping bag, food, clothes, shoes, and more.
It rides light and tight and is comfortable to wear.
You can jump or run, and you still won't lose anything.
It is made of durable and lightweight material.
The main compartment of the Teton 2100 Sports Canyon Backpack can easily accommodate the dry bag.
It is fashioned as a low-profile backpack.
Its harness and shoulder straps are comfortable because they are made of mesh. This allows the air to circulate while the Teton 2100 Backpack is in use.
Its main compartment is large. The sleeping bag has its 10-liter zippered compartment inside. You don't need to disturb the rest of the gear to get to the sleeping bag.
The hood top has large pockets that can be reached from behind. A small zippered mesh pocket and a key loop are inside the hood's zippered pocket.
The Teton 2100 Sports Backpack comes with a dry bag whose capacity is 20 liters. The dry bag is made of water-resistant PVC. It has a carry handle as well.
CONS
There are no compression straps on the sides, which limits the holding of the gear.
Check out the video below about the awesome features of the Teton 2100 Sports Canyon Backpack:
Other Notables Backpacks for Beginners
Mardingtop 45L Hiking Backpack with Rain Cover
The 45L Mardingtop Hiking Backpack is slightly lower in price than the Teton 2100 Sports Canyon Backpack.
It has a reflective band that not only improves nighttime visibility but also acts as a fastening for the hydration tube. The adjustable EXPA-compression straps reduce the pack's profile.
The zippered bottom allows you access to the main compartment. This backpack is water-resistant. It comes with a water sleeve, durable buckles, SBS zippers, and a 3-month limited warranty.
The Mardingtop backpack can be used to store a tent, a hammock, a small sleeping bag, and other accessories. There is an extendable collar on the top that enhances the main compartment's capacity by 5L.
As per customer reviews, the 45L Mardingtop Hiking Backpack comes without side pockets in the hip belt.
There is no space to place the hydration tube, and the construction material of the backpack is not durable enough to withstand much use. Its weight distribution system is very inadequate, which makes it not an ideal choice for lon
Deuter Aircontact Lite 60+10 SL Hiking Backpack
On another edge of the spectrum is the pricey Deuter Aircontact Lite 60 + 10 SL Backpack.
It has the Deuter Aircontact set-up, a zippered pocket on the hip belt, another one in the pack for storing valuables, and a lid pocket. It is compatible with hydration systems.
When compared to the Teton 2100 Sports Canyon Backpack, the Deuter Aircontact Lite SL Backpack can't fit into an airplane's overhead bin because of its large size.
Also, you will have to buy a separate rain cover for it.
The Deuter Aircontact Lite SL is not a unisex backpack as it is built to fit a women's build, and the product's description indicates such.
Verdict
The Teton 2100 Sports Canyon Backpack is ideal for new outdoor activity enthusiasts.
It can carry the weight well, and it fits well against your back, waist, and hips, making it easy for you to manage the rough terrain without feeling uncomfortable.
Its construction material is rugged enough to endure the harsh outdoors. 
It has unbeatable features in its low-profile outline, mesh lining, breathable padding, and contoured harness.
The Teton 2100 Backpack is made of durable, sturdy, and thick honeycomb ripstop fabric. Its seams and corners are reinforced to ensure protection against adventurous wear and tear.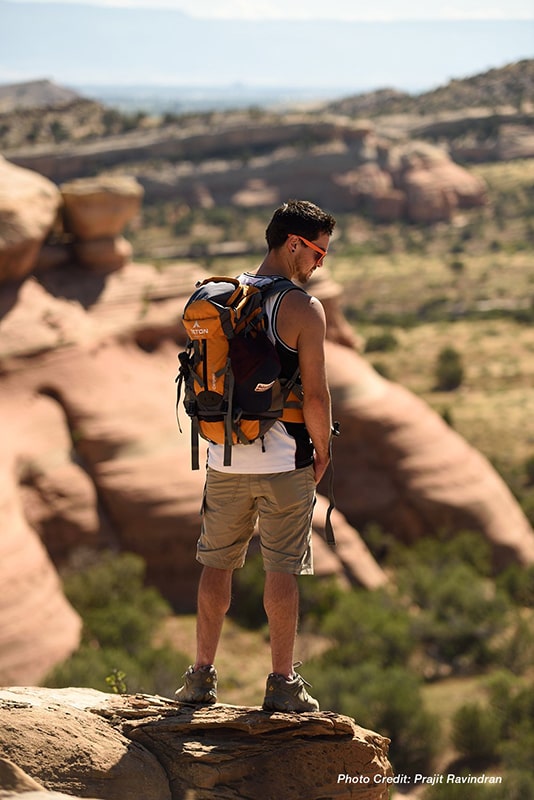 Moreover, because it comes with a lifetime guarantee, you can travel anywhere with the Teton 2100 on your back.
A 3-day adventure in the canyons is just the beginning of what you can do with the Teton 2100 Sports Canyon Backpack as your companion!
Last update on 2023-10-01 at 22:15 / Affiliate links / Images from Amazon Product Advertising API