There are many features that users check before buying a backpack like the size, compartments, fabric, and straps. None of these features will matter if the pack belongs to a cheap brand that isn't known for making durable and reliable products. The hiking backpack is one of the most important items while you're off on a trip. You can certainly not risk getting stuck with a low-quality backpack that breaks in between or just tears apart due to the extra load.
Below are a few of the best brands for hiking backpacks that are trusted by a good deal of customers:
Gregory
The company was founded in 1977 by Wayne Gregory and is based in Salt Lake City, Utah. The Gregory brand is known for making reliable, robust, and high-quality backpacks that are fit for long distances.
Gregory uses the most cutting-edge technology to make reliable packs with plenty of neat features. One thing that is guaranteed best in their backpacks is the material that they use.
On top of that, Gregory's bags are comfortable. However, the only downside is the high price attached to their products, because of it being a high-end brand.
Here is one of the backpacks in the Gregory line:
Gregory DENALI 75L Backpack:
As the names imply, it has a 75 liters capacity.
It is best suited for short mountaineering and backpacking trips.
It is made of high-quality material with double-layered, padded panel bottom for durability.
The Fusion Flex Pro suspension with auto-canting harnesses independently rotates for a custom fit.
Sturdily built with an integrated framesheet for more support, and removable twin aluminum stays.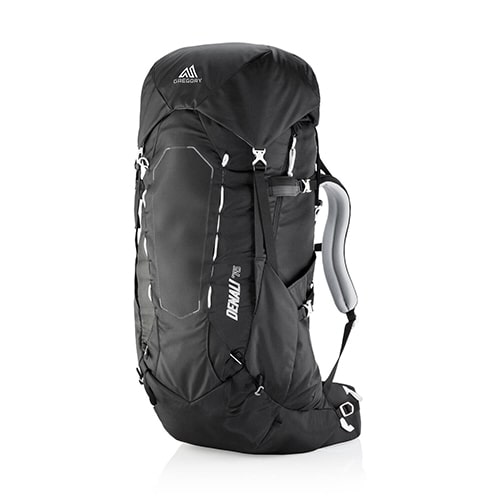 Arc'Teryx
The Arc'Teryx company was founded in 1989. It manufactures a wide range of innovative products.
Their latest Bora series is a breakthrough in the way backpacks are designed and are incredibly put.
They have a new rotating hip belt (RotoGlide), which allows the hips to move freely from the pack weight, minimizing the friction with them. This feature is especially useful for women as their hips tend to move more than that of men.
Some of the Arc'teryxs' small bags are specified for just one task and, therefore, cannot be used for other purposes.
Here is an overview of the neat features of the Award-Winning Bora AR 50 Backpack:
Arc'teryx Men's Bora AR 50 Backpack:
The Bora AR Backpack has a capacity of 53L.
It is ideal for a long weekend in the backcountry.
The GridLock shoulder strap design adjusts both in height and width for a precision fit.
The RotoGlide hip belt is a new feature that allows the backpack to adjust to your body movement.
Weatherproof high-quality nylon fabrics are keeping your belongings safe and dry in adverse conditions.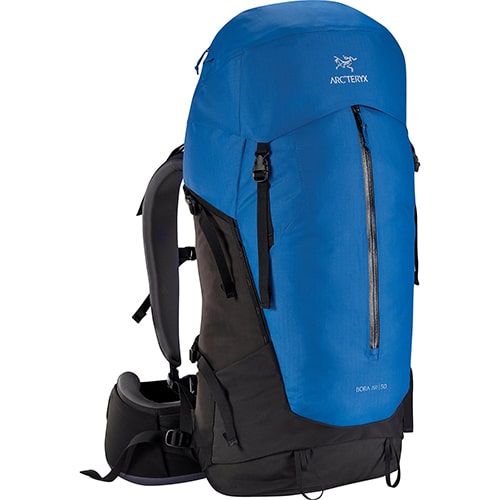 Osprey
The Osprey company has been around since 1974. And it is a good brand, but sometimes they face a mismatch between features and simplicity. Other than that, they have a lot of different sizes available for their backpacks.
A distinctive feature is that all Osprey backpacks are 20 percent lighter than that of competitors.
Osprey's Aura and Hikelite series of backpacks are well known and give great comfort to the user.
So, here are some of the features of the Hikelite daypack:
Osprey Hikelite 26 Backpack:
It has a capacity of 26 Liters and weighs in at 26 oz.
The Hikelite is best suited for day hikes and everyday use.
The AirSpeed Suspension back panel prevents you from hoisting a sweaty backpack onto your back.
Integrated rain cover keeps your essentials dry in inclement weather.
It offers adjustable shoulder straps, a webbing hip belt, and a whistle to ensure a comfortable and safe hike!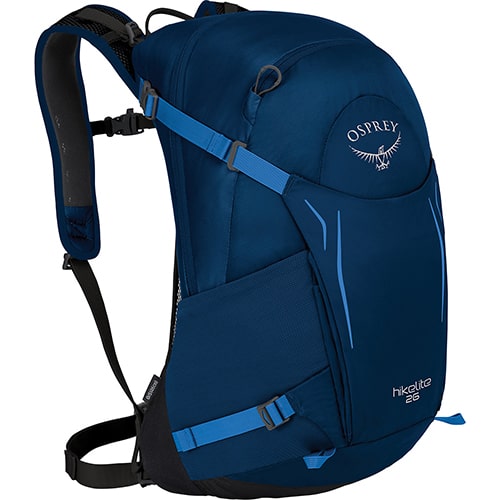 Black Diamond
Black Diamond is another renowned brand founded in 1957. The company specializes in backpacks for climbing and skiing. Thus, their backpacks are basically smaller ones that may not be fit for long hikes.
Their Backpacks from the Speed series are the most popular ones in their range of small packs.
It comes in two sizes: 38L and 40L.
Speed 40 is the ideal backpack for alpine climbing and mountaineering.
A strippable design is enabling you to remove the framesheet, the padded hip belt, and the top lid to lighten your load.
An Active Suspension system lets the pack move with you to avoid your stuff to shift inside the bag, which prevents you from tipping over.
External attachment straps for crampons and ice-tool PickPockets keep your gears secure.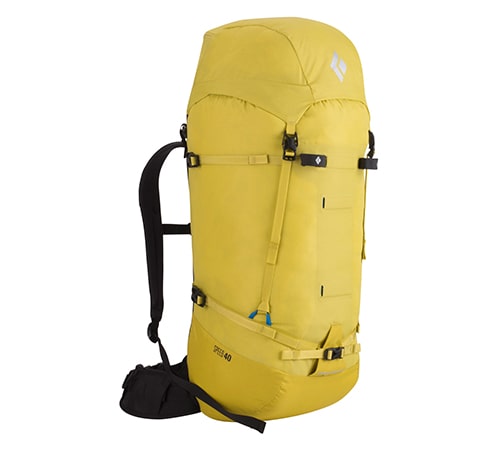 Black Diamond Speed 40 Backpack:
Watch the video below to learn more about the Speed Series Packs:
TETON Sports
Teton Sports is a high-end as well as a trusted brand by outdoor enthusiasts. The company is based in Cedar Hills, Utah, since 2005 with a showroom and warehouse in Salt Lake City. 
They make very much affordable backpacks that anyone can easily buy.
Their backpacks are well-built, sturdy, and usually based on old designs. Their main aim is to provide functionality rather than style.
Take a look at my top recommended backpack below:
TETON Sports Explorer 4000 Backpack:
The Explorer 4000 has a capacity of 65L.
Perfect backpack for backpacking and camping adventures.
Sleeping bag compartment.
The padded shoulder straps, hip belt, as well as torso length, are fully adjustable to fit a wide range of body sizes.
Multiple compartments and pockets to keep your gears well organized.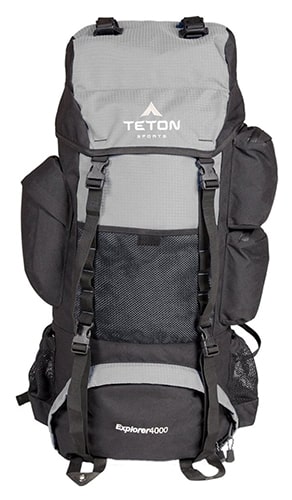 Deuter
The Deuter company, founded in 1898 by Hans Deuter, is synonymous with German innovation and is famous for making durable backpacks.
The feature of ventilated backing, where the airflow is directed through a gap between the back and bag, was initially perfected by Deuter. That made it far more accessible for people to hike because there was no issue of sweating of any sort.
Here is one of their latest backpacks on the market:
Deuter Futura Vario 50 + 10 Hiking Backpack:
The pack has a capacity of 50L and features an expandable collar adding an extra 10L.
The Futura Vario backpack is an ideal companion for weekend treks and getaways.
It features an Aircomfort Sensic Pro back system to prevent you from sweaty back syndrome.
The VariFlex and VariSlide Systems make the Deuter Futura Vario pack fully adjustable for a comfortable as well as a perfect fit to every back and hips size.
Sleeping bag compartment.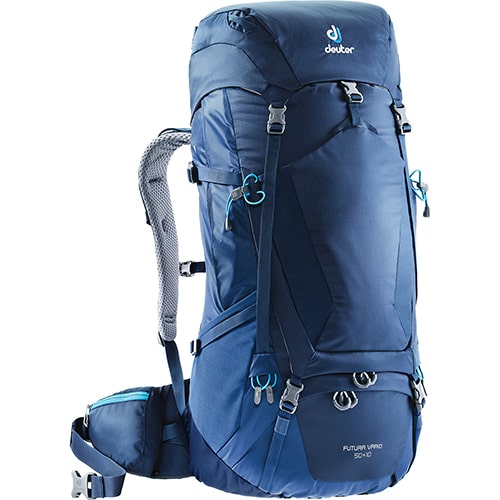 Final Thoughts
Some brands are expensive and cater to the most affluent hikers, their products are all of excellent quality and pay more attention to the style as well so that users get a good return for the price they pay.
Some brands guarantee all features, but the price is kept low so that regular classes can also afford it.
Based on the user's preferences, they can decide amongst brands and choose the best hiking backpack suited to their needs.